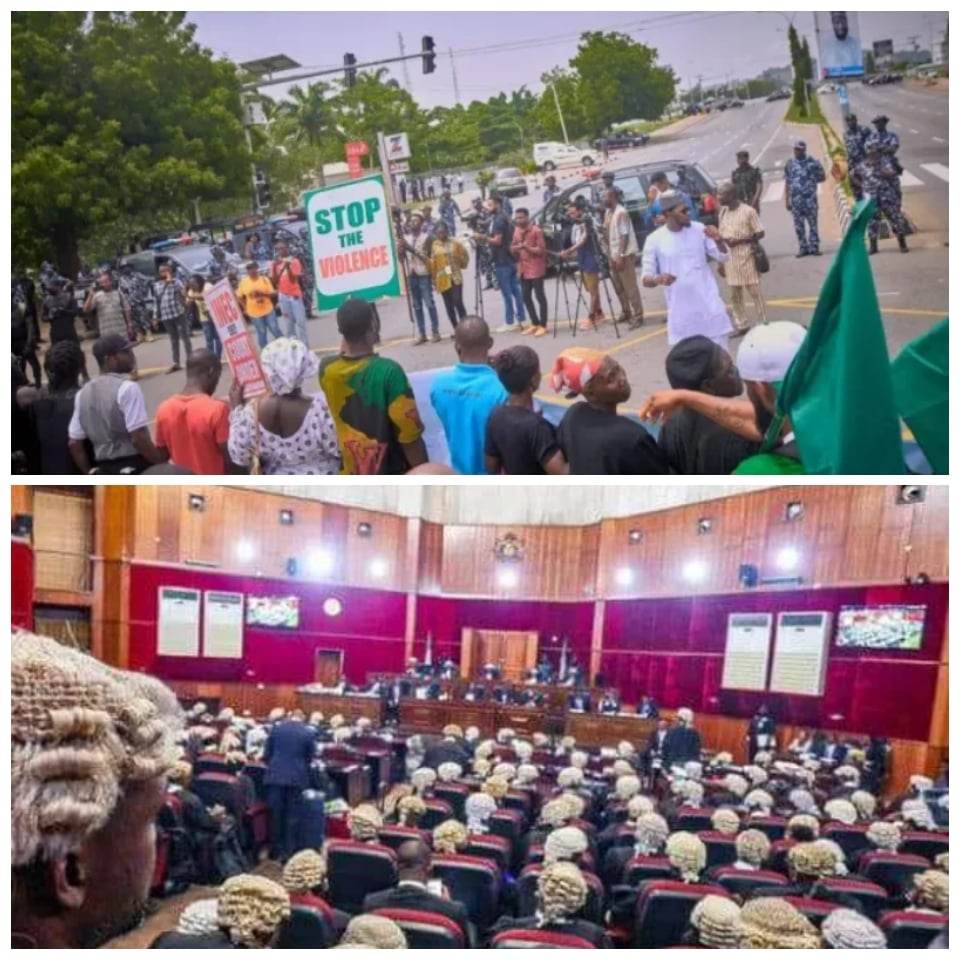 Despite Demand For Good Governance, Court Rules Against Live Telecast Of PEPT Proceedings
The Presidential Election Petition Tribunal sitting in the Abuja Appeal Court has dismissed the applications by both  Atiku Abubakar of PDP and  Peter Obi OF LP to stream court proceedings live on television to Nigerians and beyond.
Delivering judgement, the Justice Haruna Tsammani-led five-man panel unanimously ruled that the order sought by the petitioners for live telecast is outside the scope of the petition, assuring however that it will not in anyway affect the adherence to fair hearing of the petitions.
Many keen Nigerians anticipated this ruling the moment the same Tribunal pasted notices all over the walls of the courtroom last Friday, banning the use of phones in court.
However  a gathering of protesters has surged into the premises of the Court of Appeal in Abuja, where the Presidential Election Petition Tribunal is currently in session.
The protesters, brandishing placards adorned with various powerful messages, demand justice and the "restoration of their stolen mandate" from the controversial February 25 presidential election. Bola Tinubu, representing the ruling All Progressives Congress, was officially declared the victor of the 2023 presidential election. However, his triumph is being contested by multiple parties and their respective candidates before the tribunal.
Among the array of inscriptions on the placards are bold statements such as "INEC, Let Nigeria Win," "Nigerians Not For Sale. #We Fight for Justice," "A Fraudulent Election Cannot Produce a Credible Leader," "President Muhammadu Buhari. #Keep Your Promise," "#Occupy INEC Now," "We Stand for Justice. We Fight for a New Nigeria," and "Buhari, Mr. Integrity, Sack Mahmood Now."Reports indicate that the protesters, rallying under the banner of the #Free Nigeria Movement, passionately chanted slogans that championed justice and transparency in the legal proceedings taking place at the tribunal.
During an address to the assembled supporters, Dr. Moses Paul, the convener of the group, emphasized that their cause is not aligned with any particular political party. Instead, he said they stand united in solidarity with the Nigerian people, staunchly defending justice and good governance. He said, "We are standing here and decisions are being made right now inside the Appeal Court, we are demanding for the right thing to be done.
"Any judge that decides to collect money or decides not to follow the constitution of Nigeria, any judge that decides to do the wrong thing so that Nigeria can go down, e no go better for una! "The entire Africa and the world is waiting for us to show dignity, honestly, direction and leadership because until Nigeria takes its seat in the comity of nations, Africa is going nowhere, we cannot watch our nation degrade to nothing when the world is watching and waiting for us."