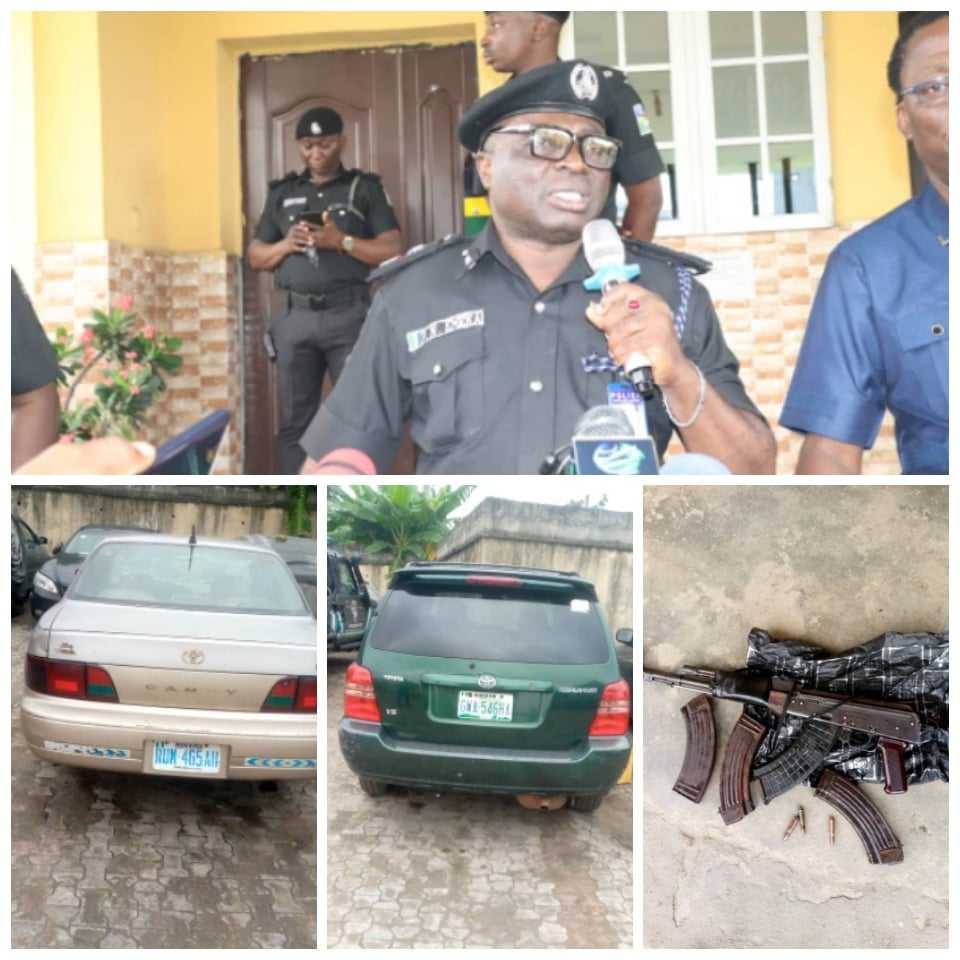 Dismissed Police Officer, Armed Robbery Syndicate Remanded To Prison Custody As Police Arrest Car Snatching Gangs, Recover Cars
The Rivers state police command says it has recorded more successes in the fight against crime and criminality
The State Police commissioner f Police  CP EMEKA NWONYI while briefing Journalist In Port Harcourt said the command recorded the following successes:-
1. ARREST OF A MURDER SUSPECT
2. RECOVERY OF A SUSPECTED STOLEN VEHICLE
3. ARREST OF ONE CHANCE/ROBBERY SUSPECTS
4. ARREST OF SUSPECTED CAR SNATCHERS/ RECOVERY OF STOLEN CAR
5. ARREST OF A NOTORIOUS ARMED ROBBERY SUSPECT AND RECOVERY OF A STOLEN VEHICLE
6. RECOVERY OF ARMS AND AMMUNITION
7. A CASE OF MURDER/ABDUCTION
8. DISMISSED POLICE OFFICER CHARGED TO COURT AND REMANDED IN CORRECTIONAL CENTER.
1. Operatives of Rivers State Police Command attached to Buguma Division on Tuesday, August 8, 2023, at about 1700hrs received a credible intelligence that one Alexander Johnbull "M," who killed one Abubakar "M," a wristwatch seller and stole his Gold jewelry in December 2021 and ran away, but base on pressure later came back to Buguma.
Police patrol team went to his house and arrested him. He is presently in custody and further investigation is ongoing.
2. On Friday, 11/08/2023 at about 1220hrs, Operatives while on patrol along Woji community, sighted a Green Highlander with reg no. Abuja GWA 546 HA with three occupants on speed and refused to stop for searching at a checking point.
After a hot chase, they abandoned the vehicle and took to their heels.
Items recovered from the vehicle include two matches, two plate numbers, two itel phones, an ID card, and two ATM cards.
Investigation is ongoing to arrest the fleeing suspects.
3. On August 12, 2023, at about 0830hrs, based on intelligence tips, the following suspects were arrested: Isaac Kalu "M," Nnorom Ikechukwu "M," Nneka Umezinwa "F," Chioma Ebere F, and Onyinye Nduuisi "F."
One Passat Wagon car with registration number Rivers, NCH 503 MA, was recovered from them.
They are made to be known people who specialize in One Chance/Robbery operating within the Ozuoba-Choba axis. Five suspects arrested.
Investigation is ongoing to arrest other members of the syndicate.
4. On 12/8/2023 at about 1645hrs, based on credible information that One Toyota Camry with Reg. ES 896 LSR, that was removed from were parked along Elimgbu axis was sighted at a mechanic workshop. Three suspects namely Ifegbora Choice 'M,' Kenneth Azodo 'M,' and Queen Ahamonu 'F' were traced and arrested.
Investigation ongoing to arrest other fleeing gang members.
5. On 13/08/2023 at about 0443hrs, following a discreet investigation, a team of Police operatives trailed and arrested one Elvis Okirika 'm' of Bomadi, Delta State, but resident in Abuja Down, Port Harcourt, in his hideout along Niger Street, Port Harcourt.
The suspect a member of a five-man gang of notorious armed robbery and car snatching syndicate recently terrorizing residents of Port Harcourt, attacked some residents of Rumuibekwe Housing Estate, Port Harcourt, on 22/07/2023 at about 1930hrs on Artillery Flyover and snatched a green color Toyota Corolla salon car with reg. no. PHC 183 AG, collected gold necklace valued at three hundred and fifty thousand naira, three Oppo smartphones valued at three hundred and ninety thousand naira, and a cash sum of three hundred thousand naira.
The notorious gang also attacked one victim name withheld at Elitor Road, Woji, Port Harcourt, on 27/07/2023 at about 1930hrs, and snatched a green color Toyota Highlander with Reg No. DFB 613 El, Tecno Spark 8 smartphone, and Nokia Touch GSM phone, both valued at one hundred and fifty-two thousand naira, His Access and First Bank ATM cards, and stole a total of two million, one hundred and fifty thousand naira from his two bank accounts.
The notorious suspect and members of his gang equally attacked one victim at Rumuodara, Port Harcourt, on 11/08/2023 at about 2040hrs along Obagi Street, GRA, Port Harcourt, and snatched red color Toyota Corolla salon car with reg. no. LND 969 DJ, Samsung S21, and Samsung Note 10 lite smartphones, both valued at six hundred and twelve thousand naira, Samsung ear pod valued at one hundred and eighty thousand naira, and a wallet containing bank ATM cards.
Investigation is also in progress as efforts are intensified to arrest other members of the notorious gang who are still at large so as to recover other stolen properties and their operational weapons. Some of the suspects are in Police net.
6. On Sunday, 13/8/23 at about 0730hrs sequel to frequent attacks by cultists along Ahoada East/West LGA's, one General Worldwide 'M,' of the Greenlanders cult group residing at Ugbulugbu Community, Ahoada East based on the pressure on him in his criminal hideout, surrendered to the Police operatives one AK-47 Rifle with breach number 1968 TH8150 with three rounds of calibre 7.62 x 39mm live ammunition and four empty magazines.
The onslaught on other cultists is seriously ongoing to mop up arms and ammunition in their possessions.
7. On 09/08/2023 at about 0910hrs, one paramount ruler of JK2 Community reported that one fisherman from Bayelsa State, was macheted to death by one Double Chief/Dangerboy on a reprisal attack. Ten persons were abducted.
The Command put more pressure on the kidnappers. Victims as been rescued and reunited with their families; all are in good conditions. Investigation still in progress.
8. Sequel to the Press briefing on 13/7/2023, on the arrest of an armed robber by men of the C4i Intelligence Team while on routine patrol, which one Police Cpl. Bright Okay Wamadi 'M," among the three man armed robbery syndicate, who has been tried and dismissed upon conclusion of the investigation in line with Police internal procedures, they have also been arraigned in court on 27/07/2023, and is presently in Nigeria Correctional Center.
Thank you gentlemen of the press.