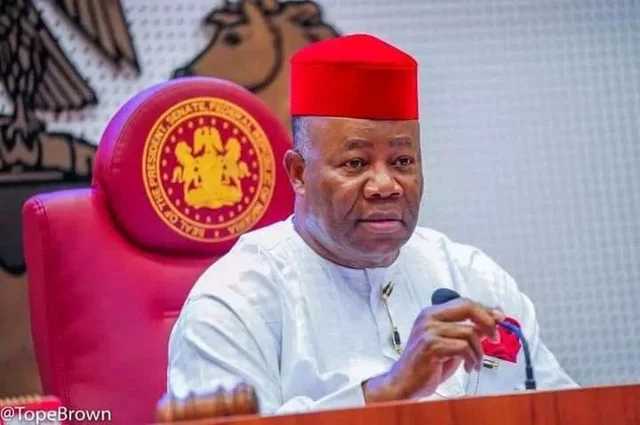 How Akpabio, Abbas Plans To Corner N500 Billion Palliatives For Poor Nigerians To Orders 4 Lexus SUVs @ N1 billion Each
Akpabio orders four Lexus SUVs for N1 billion, Abbas corners N9.5 billion contracts as NASS principals loot N500 billion palliative for poor Nigerians
A crisis is brewing at the National Assembly, where legislators are outraged that principal lawmakers like Senate President Godswill Akpabio and Speaker Tajudeen Abbas are looting at breakneck speed the N500 billion palliative funds earmarked to cushion the harsh impact of fuel subsidy removal on poor Nigerians, sources with knowledge of the matter told Peoples Gazette.
The aggrieved lawmakers had furnished The Gazette with the documents on Saturday.
A preview of the N500 billion subsidy palliative expenditure seen by the press showed that Mr Akpabio ordered four Lexus L600 VIP 2023 models worth N1 billion to upgrade his personal garage, while Mr Abbas plans to spend N9.5 billion renovating the Zazzau guest house and other villages in Kaduna.
Mr Abbas budgeted a whopping N500 million for the "construction of block of three classrooms with furniture and toilets" in 12 wards and N200 million for the "reconstruction and refurbishment of Zazzau Emirate guesthouse" in Kaduna.
Deputy Senate President Barau Jibrin, emboldened by Mr Akpabio's order for the latest Lexus vehicles, allocated nearly N4 billion for the installation of solar streetlights in certain local governments in Kano, a project deemed inconsequential for a state known as Nigeria's poverty capital because there are over 10 million poor people there.
How the streetlights and guesthouse remodelling will improve the quality of life of the millions of underprivileged Nigerians in those states remains to be seen, particularly because President Bola Tinubu said the N500 billion taken from the supplementary budget was for the purpose of relieving the economic hardship caused by the subsidy elimination.
But the key lawmakers, sworn in only two months ago, have begun cornering billions of naira through frivolous projects that may undermine Mr. Tinubu's efforts to better the lives of poor masses and make them despise his administration.
Lower-ranking legislators, incensed by the palliative budget, have questioned the wisdom of allocating such humongous sums on non-priority expenses and expressed fears that the N500 billion palliative might not serve the intended purpose if it was already getting looted from the top.
If the national parliament succeeds in embezzling the palliative without the public feeling its impact, the angry and impoverished masses may rebel against Mr Tinubu.
Messrs Akpabio, Abbas, and Jibrin did not respond to inquiries seeking comments on the matter.
e Gazette