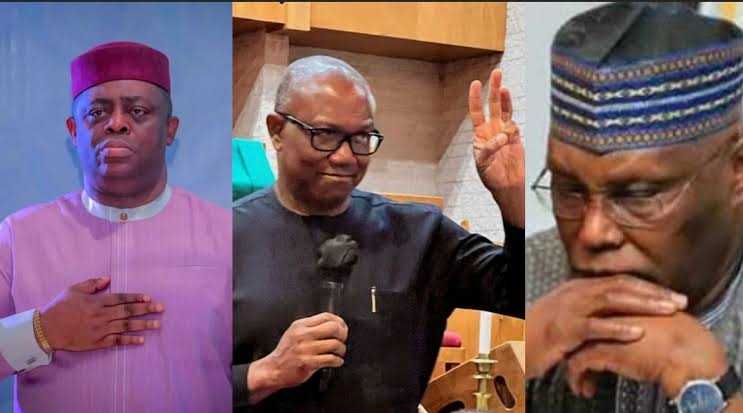 Fani Kayode's Utterances Is Against The Vision and Mission of APC-South East Young Progressives Forum
Awka- The National Convener of South East APC Young Progressives Forum, Comrade Otimkpu Paschal has berated the flippant and loquacious spokesman of the New Media of All Progressives Congress Presidential Campaign Council, Mr Femi Fani-Kayode over his inflammatory remarks he made during the electoral season against Igbo people of South East and South South Resident in Lagos.:
While speaking during in an interactive session with some selected Journalists on Wednesday in Awka Anambra State, the National Convener and Coordinator of the Group, Comrade Otimkpu Paschal faulted the APC presidential campaign council's director of new media Fani Femi Kayode for making derogatory remarks against The Igbo Race.
Yes, we are Members of APC. In fact, foundation Members of the Party since its formation. However, before becoming Members of APC, we are Igbo people by Tribe. We love our Tribe and people. We are proud of who we are. We will not because of being in the same Party, allow people who has no character and Integrity to insult the sensibility of Our People because of their Political choices which they believed served their interest during the election.
"Igbo people have the right to choose and vote who they want. Election is all about choices. Some of us voted Aswiaju Bola Tinubu against Our Brother, Mr Peter Obi. Nobody has called for our head. It is our Choice and nobody in Igboland can come out here to insult us for being in APC."
"Yes, let's be specific,during this election there were some people, like Femi Fani-Kayode, I believe some of you must have read what he is saying and why is he saying it? This is something we do not understand. So is it not Election again?
"It is wrong from our perspective and understanding of Election in this modern time that he will be allowed to speak on behalf of Our party and Our Candidate and that party does not distance itself from him and caution him from saying that or doing that. What FFK said against Ndi Igbo is totally unacceptable. It is wrong to say that," Comrade Otimkpu Paschal said.
Comrade Otimkpu Paschal queried Fani Kayode's utterances, which he said it is against the Vision and Mission of APC. It is against what APC stand for. We call on our Party to call him to order. We sincerely believe he is against our Party.
We want to state it clearly FFK is not in-law to Ndi Igbo as he alleged. He never legally married our sister and daughter nor paid her bride price. So he should stop saying he is our in-law to Ndi Igbo. You have no character and integrity. If you are in-law to Ndi Igbo, you should behave like one.
Nothing would have brought you and many of us in APC here together. If not Politics and APC. We are questioning our Party and its reward system. This is the same FFK that held different Press Conference demarketing APC and even Bola Tinubu.
It is on record that FFK in Television Programme said Aswiaju Bola Tinubu will never rule Nigeria. That as long there is God in heaven. The same FFK also said in a press conference that Aswiaju Bola Tinubu took Osibanjo to shrine where he Osibanjo swore to resign as Vice President and Bola Tinubu will take over. The same FFK pitched APC against Nigeria People with all manners of false propagandas against President Buhari, APC and Tinubu. Today, he is pretending to like APC and Bola Tinubu more than anyone else. Such a character cannot be trusted.
As a group, we stand firmly with Chief Emmanuel Iwuanyanwu on what he said in Awka Anambra State. Party or No Party, we will not sit and watch our people butchered most especially in Lagos because of Political Choices they made by some Political rascals.
We are calling on The British Government and United States Government to place this loquacious FFK on visa ban and other people undermining democracy and promoting violence against Igbo People. The statement concluded.
March 30,2023.