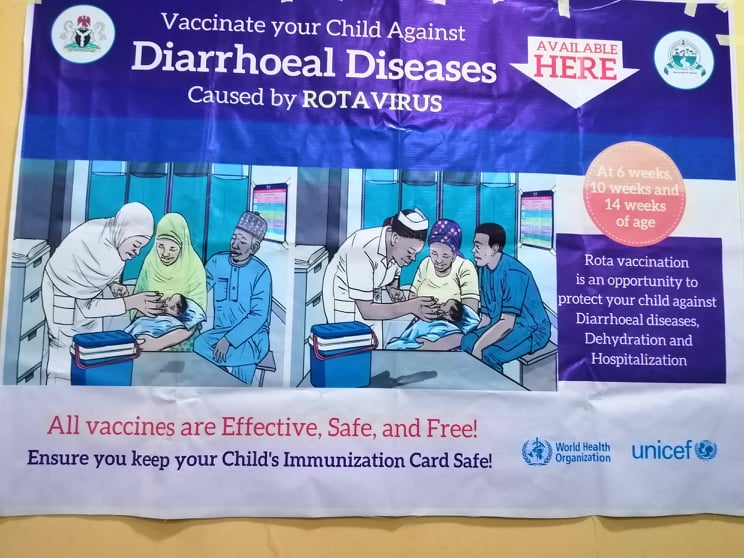 FG/Rivers State Govt Rolls Out 19Million Doses Of Free ROTA Virus Vaccine For Children Ages 2 & Below
As part of activities to begin the 2022 ROTA VIRUS Vaccine Campaign, The Rivers State Primary Health Care Management Board (RSPHCMB) says it began the Rotavirus vaccine immunization program in the State on Monday 21st Nov 2022
Speaking at a Joint stakeholders  press conference held at the conference hall of RSPHCMB, Health experts highlighted the importance and and essence of caregivers and mothers to vaccinate their children against the Rotavirus within the age bracket targeted for the campaigns
The Rivers sate health Immunization officer  DR Joseph Ulang  said the Rota vaccine is the best way to protect children against diarrhoea  diseases. H said Most children who get the vaccine will be protected from severe diarrhoea caused by rotavirus. About 9 out of 10 children will be protected from rotavirus disease of any severity.
Experts Says Rotavirus is a very contagious virus that causes diarrhoea diseases in children. The virus spread easily among infants and Young children and can cause severe diarrhoea, vomiting, fever and abdominal pain. Children 6 weeks to 1 year are eligible to get the rotavirus vaccine. Rotavirus from the stool of an infected child can be spread from hand-to-mouth after touching an object that has a small amount of infection.
In her speech the State Health Educator RSPHCMB Dr Diana "said we are here for one reason and one reason only. We are launching the Rota virus immunization into our routine immunization as a state. It started yesterday 21th of November 2022 in our facilities, we have already began to administer the vaccine to our children. Children 6weeks to 1year are eligible to take this vaccine and its prevents diarrhoea,  diseases in this age group of children. "Immunization remains the most cost effective intervention and not only for Introducing rotavirus vaccine. We hope that this will also propel immunization in such a manner that other vaccine preventable diseases will be reduced," he concluded.
Speaking also at the press conference The World Health Communicable and non communicable dieses cluster, Dr  Richard Koko, also commended the Rivers State government for putting immunization program high on its agenda and taking issues of immunization seriously.
The representative of UNICEF Health Specialist  immunization country's Officer Dr Patrick Akor, also commended the Rivers state government for introducing the Rota vaccine immunization in the state and working with various stakeholders to ensure that no child is disenfranchised during the campaigns
He noted that  "diarrhoea accounts for 15% of under 5 mortality in Nigeria with the rate of 18.8% on average of 200,000 children at the age of 5 die annually from diarrhoea  diseases. So it is important that we need to have this vaccine roll out in Rivers state and this will support the aspect of reducing mortality and mobility rate in the country."