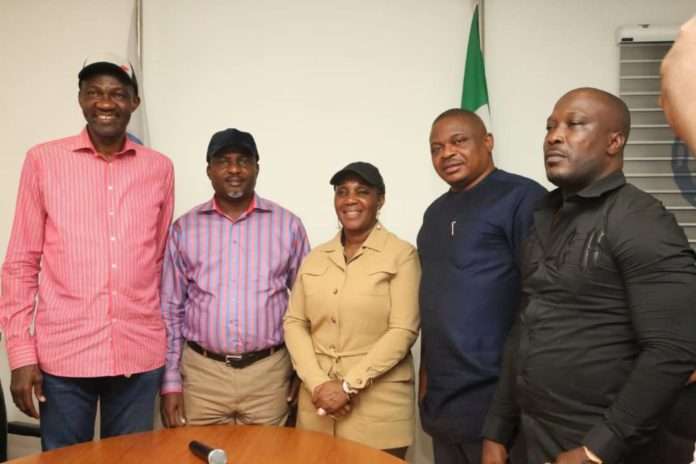 Group Berates Boyloaf, Egberipapa, Other Ex Warlords For Endorsing Corrupt Laden NDDC
The Niger Delta Amazons, has lashed out at ex militant warlords, like Boyloaf, High Chief Egberipapa among others who they say are always in a hurry to visit the Niger Delta Development Commission (NDDC) to pass a vote of confidence in a bid to curry favour, and botherless in the face of distortions and absence of evidence on ground to justify trillions of naira received to address the backward and awkward state of infrastructure in the region.
Spokesman for the group, Mr Minabelem Orukari who made this assertion while speaking to newsmen in Porthacourt recalled that in 2019, Ex Warlords, Boyloaf, High Chief Egberipapa and other ex-militant had visited the corporate office of the commission in Port Harcourt to pass a vote of confidence on the three-member Interim Management Committee approved by President Muhammadu Buhari to oversee the affairs of the Niger Delta Development Commission (NDDC).As the long running saga of corruption in the commission characterized by inefficiency, misappropriation, mismanagement, and shady award of contracts continue to set off outrage and palpable frustration,
The Niger Delta group, said Unfortunately after that visit, NDDC experienced one of its worst corruption in the history of the commission, however these ex warlords failed to condemn the rot, rather they remained silent.
As a group with the interest of Niger Delta communities at heart, it is expected that the ex warlords should be interested in ensuring that the mandate of the agency to bring development and intervention to the region is sincerely actualized not the other way round. It was reported that during the visit, High Chief Egberipapa was quoted as saying, "We will support you and we will ensure that you succeed. We believe that as you go round to inspect projects, you will insist on quality and prompt delivery. As eminently qualified Niger Deltans, we believe in your ability and we have no reservations in passing a vote of confidence in your team." However, that was not to be.
This is why as a group we will continue to condemn these galore of unmerited endorsements. The ex-warlords should not be in a hurry to pass a vote of confidence for selfish reason. For example it was allegedly reported that the 2019 visit ensured appointment of High Chief Egberipapa as Chairman of the NDDC Palliative Committee and juicy contracts for Boyloaf among others.
Mr Orukari noted, that these ex warlords should play a pivotal role in ensuring sanity and development of the region. According to him the ex warlords can be more productive and proactive to the cause of the region by requesting sternly that the Presidency should vacate its crucible hold on the NDDC to perform its interventionist functions according to priorities set by the communities of the Niger Delta.
Hear him: Poverty is getting worse, obviously we can say Nigeria is generally poor, but when you find out that an agency that is supposed to alleviate poverty is now helping to perpetrate that poverty and rub it on our face, spells doom for the people and the region. A situation where we share N10 million, N6 million as palliatives and contracts and the people who are supposed to benefit are not given a bucket of water is so painful.
In as much we appreciate the ex warlords role in the Niger delta struggle, we are calling on ex militants warlords to help ensure that NDDC adheres to it regional masterplan to make huge difference in terms of physical and human development in the region and not arbitrarily passing a vote of confidence that leaves us more vulnerable to scavengers,.