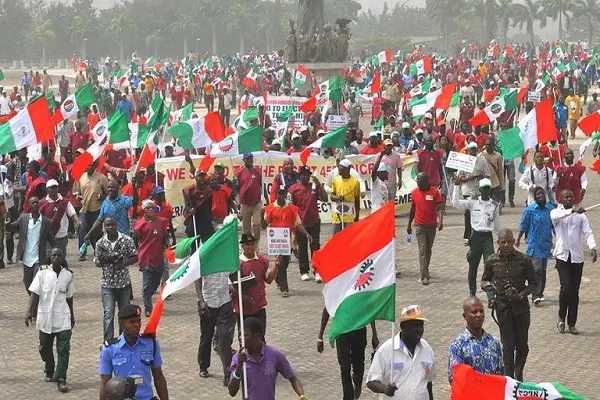 NLC Nationwide Protest: We Have Nothing In Our Hands Since We Started Negotiations – Joe Ajero
The Organised Labour has kicked off its protest against the "anti-people" policies of the President Bola Tinubu administration in the Federal Capital Territory (FCT), Abuja, and other states in the Federation.
Members of the Organised Labour with different paraphernalia of the union, on Wednesday morning, gathered at the Unity Fountain in Abuja for the protest.
In Rivers State the protest is gathering momentum at the state secretariat on Igbukwu street D/Line
Some officials of the Nigeria Labour Congress (NLC) and Trade Union Congress (TUC) from the FCT are also at the Unity Fountain even as there is a sizeable number of security presence here comprising officers of the Nigeria Police Force and the operatives of the Department of State Services (DSS).NLC President, Joe Ajaero, told Channels Television at the venue that there is "nothing stopping the protest, not even an overture from the government".
He said that the Organised Labour won't shelve the protest until there is a response from the government.
Ajaero said the response from the states will determine "whether the protest will be from today, or tomorrow or next or till thy kingdom come, it is not by using force". "We are here for the protest and to make a statement that since we started negotiation, that there is nothing we have in our hands."
Last week, the NLC had issued a seven-day ultimatum to the Federal Government and demanded "the immediate reversal of all anti-poor policies of the federal government including the recent hike in PMS (Premium Motor Spirit) price, increase in public school fees, the release of the eight months withheld salary of university lecturers and workers".
Channels TV