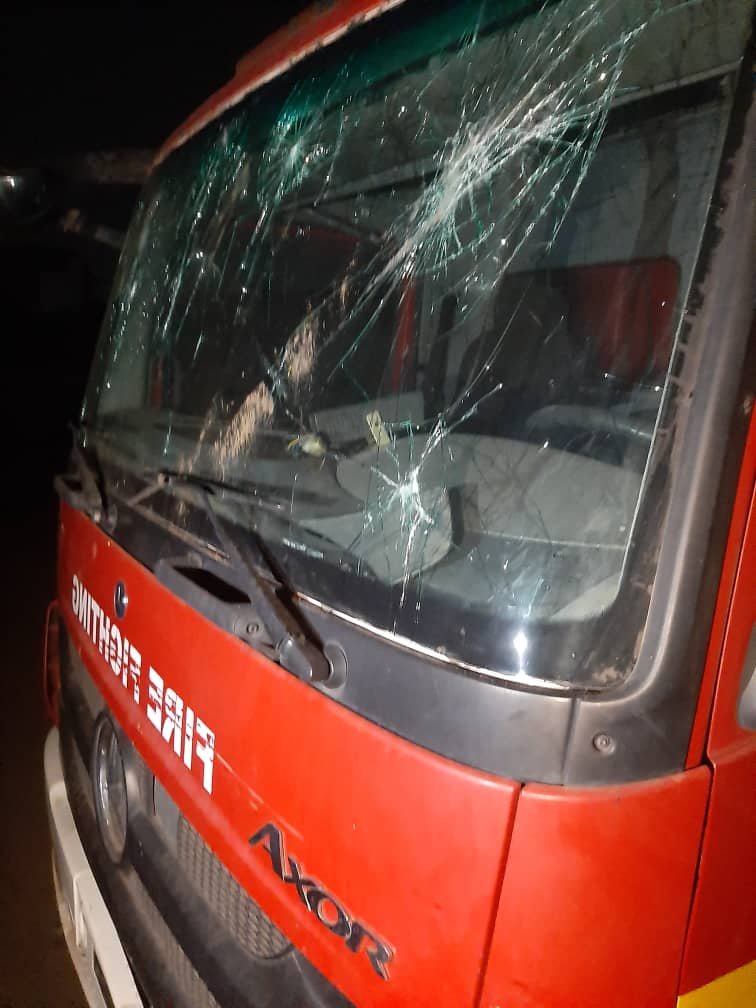 Hoodlums Attack Fire Fighters, Destroy Fire Truck At Uga Junction Onitsha Over Alleged Delay To Distress Call
UGLY EXPERIENCE OF ANAMBRA STATE FIRE ON IST JANUARY, 2020 AT UGA JUNCTION BY ATANI ROAD, ONITSHA
A BAD WAY TO START THE NEW YEAR.
I really want to show my utmost dismay on this ugly experience melted on Anambra State Fire Service on 01-01-2023 at Uga Junction by Atani Road, Onitsha. It was a massive MOB attack on our Fire Truck and our Firefighters.
On Sunday 1st January, 2023 at about 1800hours, Anambra State Fire Service, received a distress call of fire incident at Uga junction by Atani road.
Immediately, our Fire truck and Fire fighters were deployed to the scene. On arrival to the fire scene, the Mob attacked us. They threw stones, sticks and irons to us. Unfortunately, they shattered the windscreen of our fire trucks, the side glasses and also wounded some firefighters.
As they started throwing stones on the fire truck while the fire was still on, what we could hear was, "is it now that you people are coming to fight the fire?". As the throwing of stones, sticks and irons increased, we managed to escape the mob attack with our shattered windscreen and some injured Firefighters.
This gift of new year is really unfortunate, that our hardworking Firefighters of Anambra State will be welcomed to the new year with this barbaric act. The preparators of this ugly act will surely be brought to book.
Now that you people have destroyed our fire truck and wounded our firefighters, if there is another fire outbreak in that area or within that axis, I hope they will still call Fire Service to come to their rescue as usual.
Why are you beating Firefighters;
Are they the cause of the fire?
Are they at the fire scene when the fire started?
Must Firefighters disappear and appear at the fire scene immediately they are called?
Do you know the distance of the fire station to the fire scene?
When you claim that firefighters arrived at the fire scene late, at what time did you call them?
When you destroy those you run to when you are in need, who will you run again to. Just remember this, "HE WHO SHALL NOT WHEN HE MAY, WHEN HE MAY, HE SHALL HAS NAY".
DO YOU KNOW, HOW MANY FIRE OUTBREAKS WE SUCCEED IN FIGHTING DURING THIS FESTIVE PERIOD, WHILE YOU WERE AT YOUR HOME ENJOYING YOURSELF?
WE HAVE GIVEN OUR BEST TO NDI ANAMBRA but it seems some people are not appreciated that.
ENGR. DR. MARTIN AGBILI (AGILITY)
Fire Chief
Anambra State Fire Service