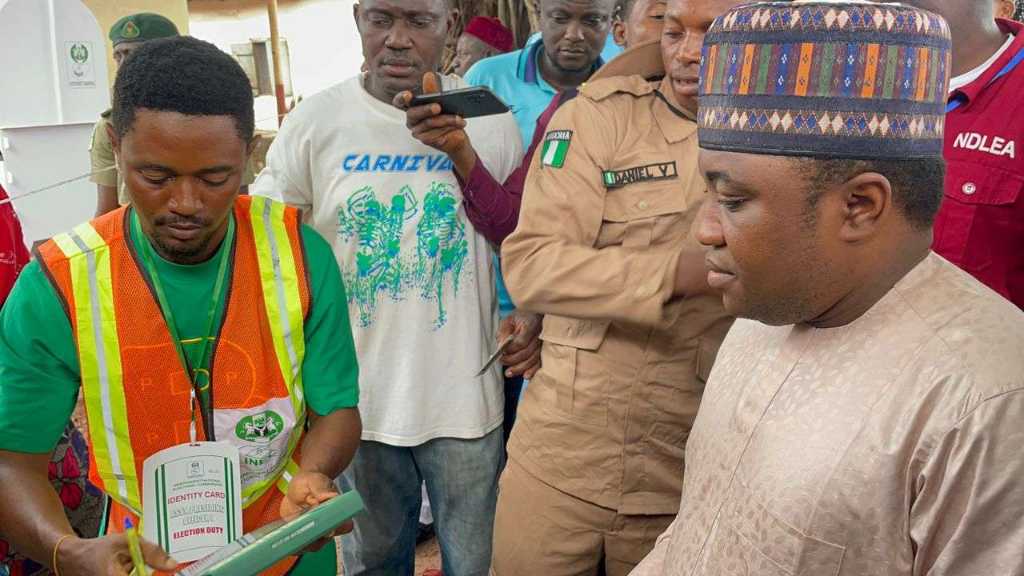 INEC Supervised Rigging, Why I Wont Waste My Time Going To Court – SDP Kogi Guber Candidate
The Independent National Electoral Commission, INEC has declared Ahmed Usman Ododo, the candidate of the All Progressives Congress, APC, as the winner of the Kogi governorship election.
The retuning officer, Professor Johnson Urama announced that the APC candidate scored 446,237 votes to defeat other candidates in the election held on November 11th, 2023.
The candidate of the Social Democratic Party, SDP Yakubu Murtala Ajaka came second with 259,052 votes while Dino Melaye of the Peoples Democratic Party, came a very distant 3rd with 46,362 votes.
"Ahmed Usman Ododo of the APC having satisfied the requirements of the law is hereby declared the winner and is returned elected," the returning officer said.
Meanwhile the Governorship candidate of Social Democratic Party (SDP) in Kogi State, Murtala Ajaka, has alleged irregularities in Saturday's election, adding that he won't challenge the outcome of the poll in court if he loses as it will be a waste of time.
Speaking on Channels TV's 'The 2023 Verdict: Off-Cycle Elections,' Ajaka had claimed that the election was rigged with the support of the Independent National Electoral Commission (INEC).
"In the whole of the five local governments in central, there was no election anywhere. They wrote results. Result sheets were given to Yahaya Bello
"In Okene local government, they turned out over 130,000 votes, haba! And INEC accepted that result and what is on the BVAS is less than 30,000.
"With all due respect to the person of the INEC chairman, if they don't do a checklist and investigate their officials that went to Kogi State and allow this to stand, I doubt if there will be election in 2027.
"Because people will go into that election armed and I fear Somalia will be a child's play.
"If we knew it would be the same old music, we would have played along with that old music by inflating the results from my area.
"When the commission told us yesterday that they were looking into this case, we were hopeful, that is why everybody relaxed. Only for them now to collate these results. It is annoying. Three local governments are producing 230,000-something votes," he said,
When asked why he was agitated since he had evidence to prove that the election was rigged, Ajaka said, "What am I going to court to do when the same INEC that did this is going to come as a witness to defend what they did? So it is a waste of time. Except the party people because I'm hugely disappointed. If the INEC chairman allows this to stand, they are looking for trouble in Nigeria
"You gave me assurance that the election would be transparent, you allowed me to waste my time, spend my money, mobilise my people, only for you to write the results. Even if I'm not sad about it, you expect my supporters to be happy. I assure you if they allow this to stand as they are allowing in all the states now, they are calling for anarchy in this country."