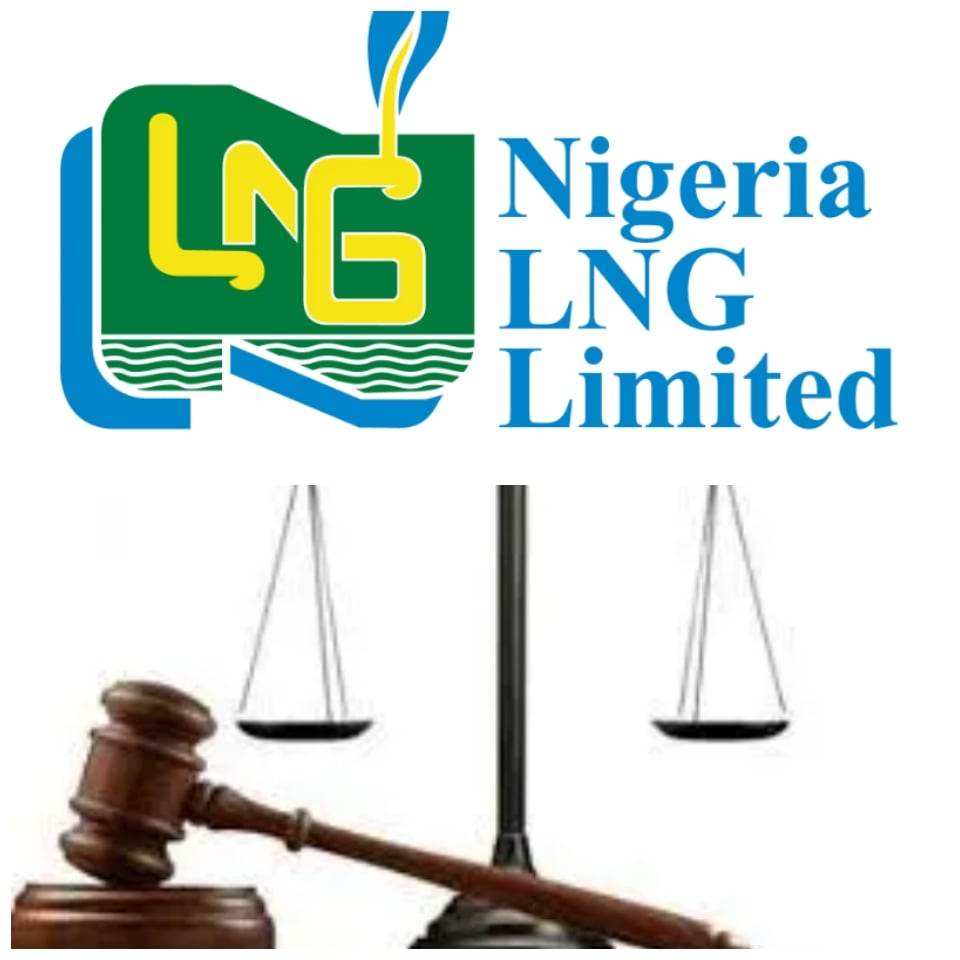 Interlocutory Appeal? Court Set Ruling For 20th June As Local Contractor Drags NLNG Over Allege N1bn Contract Scam
A high court Sitting in Port Harcourt has set  June 20, 2023, to give ruling on whether hearing of main case should stop or continue if a party went for interlocutory appeal.
This is the crux of fireworks between counsels in the N1Bn contract case between the Nigeria Liquefied Natural Gas (NLNG) and one of its indigenous contractors, Macobarb International Limited.
Macobarb had dragged NLNG to court in 2022 claiming N1Bn as accumulated claims for a 2014 contract gone sour. NLNG raised preliminary objections that the case was status barred and that the CEO of Macobarb should not be a party.
The judge, Chinwendu Nwogu, ruled against the objections and awarded N200,000 costs to Macobarb. NLNG went on appeal against the preliminary objection and came back to the high court seeking to stop hearing pending outcome of the appeal.
When the case came up on Monday, May 22, 2023, at Court 24, Morrison Uzoma, an Aba-based lawyer, led his team while D.S Lawson Ogari led one other for the NLNG (Defendant/Applicants). Uzoma attempted to move a counter motion to what the NLNG lawyers filed but Ogari challenged him, until the judge cautioned that lawyers must allow each other to exhaust arguments.
Macobarb's counsel tried to show that his counter motion was in other, but NLNG's lead counsel said it was wrong to file at this point in time. He said Macobarb counsel had abandoned the motion NLNG filed and used the word 'indolent' to describe the approach of Uzoma.
The judge ruled in favour of Macobarb (Uzoma) and the motion was moved and countered. The judge reserved ruling to June 20, 2023 on whether hearing would continue with appeal going on or not. Macobarb's counsel quoted authorities that said hearing should continue if the appeal is interlocutory while NLNG counsel said if appeal would affect the core case, hearing should stop.
Explaining what actually transpired in court, Uzoma for Macobarb said: "Today we came for the civil matter of Macobarb against the NLNG. It is a matter that is founded on breach of contract and midway before today, they raised objection that the suit is status-barred and the court should dismiss or strike it out. "The court delivered ruling saying that no, the suit is not in any manner status-barred and the court ruled in favour of Macobarb, dismissed the objection, and then awarded N200,000 cost against them."
He said haven heard that particular ruling, pursuant to it, the NLNG now filed what we called interlocutory appeal. "They didn't wait to subsume whatever thing they want to do at the court of appeal to be done here, you know simultaneously, as the law and all the judicial precedents, the plethora of authorities that have already stated that once such a thing happens, that they should wait and proceed only at the end of the trial. The position of the law is that they should raise that ground of appeal together with any grounds at the end of any final judgment.
"Now they appealed and today they brought a motion in fact, today was the motion for stay of proceeding pending the interlocutory appeal. We filed counter affidavit, and also accompanied same with a motion for extension of time to file and regularize the counter affidavit, and I said no, that thing ought not to be regularized, when they from inception never opposed it by way of counter affidavit.
"The court said no, from day one, you never indicated any interest to oppose it, you never filed counter affidavit and the court cannot shut us out on the ground that the NLNG has moved their own motion before Macobarb wanted to move our motion, and that particular objection was discountenanced by the court and we proceeded immediately to adopt our written addresses for him in support of his motion for stay and for me against the motion for stay of proceedings."
He said one thing that is cardinal that interested the court is that they were relying on Court of Appeal rules of 2021, which is a general rule regulating appeal but because of the peculiarity of interlocutory appeals which we are witnessing in this matter, the president to the Court of Appeal made a 'practice direction' in 2013, regulating interlocutory appeals and small ancillary matters.
"So that those important matters should not be a ground to waste time of any nature and by that practice direction, if there's any interlocutory appeal based on interlocutory order, which ought to have been delayed for the final judgment, and join in the appeal, that the court should be hesitant in granting stay based on that interlocutory appeal. So, I referred the court to that practice direction.
"They transmitted record of appeal without reference to practice direction. All they did, they never averted their minds to practice direction, thinking that it's the general court of appeal rules that they want to rely upon. The court has adjourned the matter for ruling and directed that I should make available to him that practice direction of 2013 to enable him consider the basis of my objection and give a ruling on that. So that's the position of the court."
When reminded that his opponent, the NLNG lead counsel (Ogari), had accused him of abandoning the motion and in fact said you were 'indolent', Uzoma retorted: "No! You see, in my response, I informed the court that a party in a litigation cannot approbate and reprobate.  Approbating and reprobating means from day one, you say I am not opposed to something. You cannot turn round to talk about not being diligent when you had said you were not opposed to it, and that's the meaning of the court ruling. The judge said; 'this thing was with you, you never found out counterfeit so what are you saying about indolence and all of it? So, I replied him by using the words, 'you cannot approbate and reprobate at the same time.'
When journalists approached the NLNG lead counsel, Ogari, for comment, he said: "I do not know if I have the mandate to speak to newsmen."
He however explained that the court has given the go ahead to hear the motions on application to proceed and that ruling has been reserved for June 20, 2023.