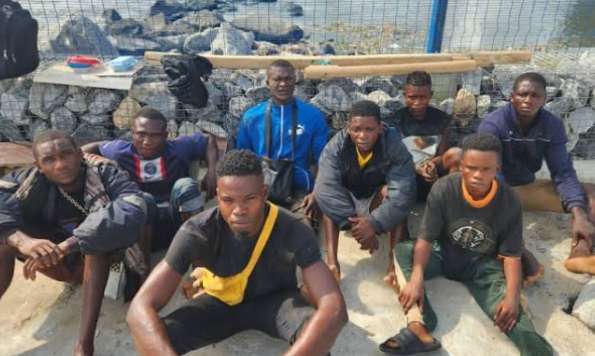 Japa: 11 Stowaway Arrested By Navy Laments Ill-luck, Bemoans Hardship
Men of the Nigerian Navy Ship, Beecroft, Apapa, Lagos, have arrested eight stowaways while heading to Abidjan, Cote D' Ivoire, on Monday. The Commander, NNS Beecroft, Commodore Kolawole Oguntuga, gave their names as Jerry Benjamin, 22; Ben Tony, 19; Victory Ekemele, 16, and Ike Destiny, 17, all from Delta State. Others are Ebuka Solomon, 25, and Christian Eze, 26, from Enugu State. James Vincent, 25, from Edo State and David Abamiyo, 27, from Ondo State.
They arrested stowaways spoke to newsmen after they were intercepted while trying to get on a container vessel, NATAL. A 22-year-old man identified as Benjamin, from Delta State, narrated how his friends with whom he was supposed to sneak abroad, aboard a ship were now in London, the United Kingdom. Benjamin said: "The last people I could have left with are in London now. "It took them 11 days to get to London, and they are currently in a refugee camp.
There were 15 of them. "I have been trying hard, but things are not going well, which is why I wanted to leave the country. "I am a marina driver but since they repaired the Ojo-Iyana Oba Road, work is no longer booming. This is why I attempt again." One of the suspects, Christian, said he was from Enugu State but looking for a way to improve his life. He said "I am from Enugu State, I was looking for a way to improve my life. "We were going to Europe, specifically Portugal. It took me about two months to plan it. "My work as a bricklayer brought me to the Island, where I saw people attempting this journey, and I decided to try it too if I would be lucky. "I did not pay anyone money to enter the ship; people doing fishing boats helped me. "I have been relating with the people since I came to the island, and that's how they got to know me. "They caught me under the ship. We were on our way when the gunboat saw us. This is my first attempt." Meanwhile, the stowaways were handed over to the Nigeria Immigration Service (NIS) in accordance with the established protocols for further necessary action.
Source: Vanguard