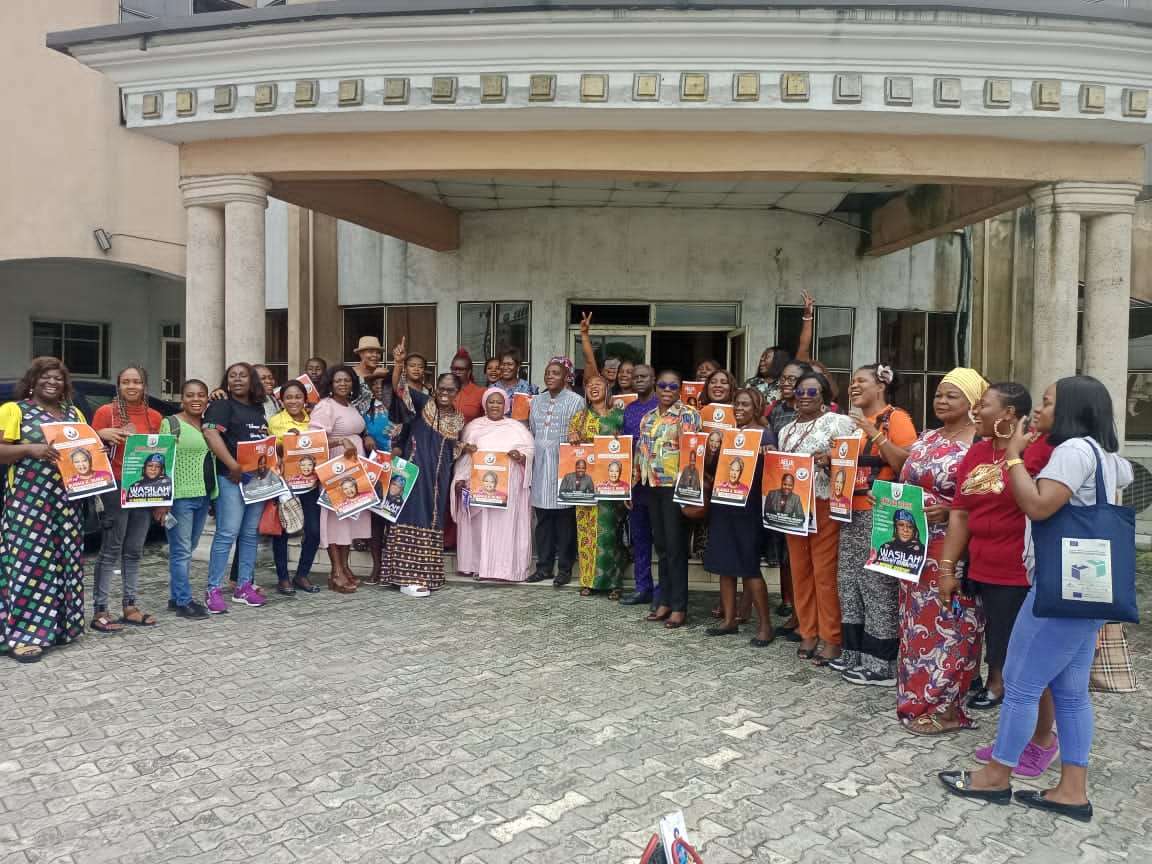 NAWOJ Stands To Benefit Greatly With Aisha As President-NUJ Chair Declares As Team-Unite Barthes In Rivers
Rivers NUJ was on Wednesday Agog as Nawojians trouped in to welcome The campaign train of Team unite Led Hajiya Aisha Bura to the garden city.
Speaking to Professional women from various Media Strata the DG Aisha Campaign Organization, Grace Ijeoma Umeh, said  The Aisha Campaign Organization  Launched Team-Unite in Lagos on Monday and on Tuesday landed in Port Harcourt  with the mandate to Open New Vistas of Progress for NAWOJ , Rekindle Hope in an Association United Across Frontiers
Also speaking to the Women Journalist, The visionary inclusive woman Leader Aisha Ibrahim K. BURA thanked the Women Journalists for taking time out of their busy schedule to welcome the team to Rivers state. she expressed joy with the turn out of members and the executives of the State NUJ for the interactive session with her team and other critical stakeholders of NAWOJ. after an elaborate summary of her humble background and rich educational qualification explained that "Team-Unite Will be Responsive to the Needs of the Association and the Welfare of her Members." –
She said Aisha is coming to take up the leadership of NAWOJ to correct the discord meted to some zones, to change the Narrative, in a positive way,  bring transformation,  digital innovation, with a non bias mindset, in order to move our dear association forward.
In his response the Rivers NUJ Chairman Comrade Stanley Job Stanley said "Aisha has the capacity to Lead"
He continued "This is a very formidable team. The caliber of personalities on this team shows the stuff Aisha is made up of.
I know Aisha very well. We worked together as members of NEC in NUJ. She is very outspoken. She played key rolls in major assignments at NEC and she excelled at it.
NAWOJ stands to benefit greatly with Aisha as President.
If our only candidate in Rivers state decides to peach tent this time around with a good candidate, we will support her. I believe she knows the capacity of whom she has decided to align with this time.
For her part  Wasilah ladan who is vying as National secretary,  urge the women to vote right, she said  "We believe in collaboration over competition, alliance over segregation. as an incoming National secretary. this is the time to do so, It our time rise above oppression, segregation and selection.
Another Candidate from Rivers state Dr. Lilian Okonkwo-Ogabu who is seeking a re-election as Deputy National President after a brief history of her three years sojourn at the helm of NAWOJ affairs responded to questions asked of her stewardship and thanked  All NAWOJIANS,  NUJ Zonal Vice President, Opaka Dokubo, Chairman of Rivers State Council of NUJ, Stanley Job, Secretary, Ike Wigodo, Chairperson of NAWOJ, Susan Serekana Nwikhana and indeed the entire executives of the state council for the support and wonderful reception given to them (Aisha/ Lilian campaign team: Team-Unite) at the council secretariat.
She said "Your support is overwhelming and can not be taken for granted. I will continue to crave your prayers and supports even as the campaign progresses and the elections draw near. God bless you always."