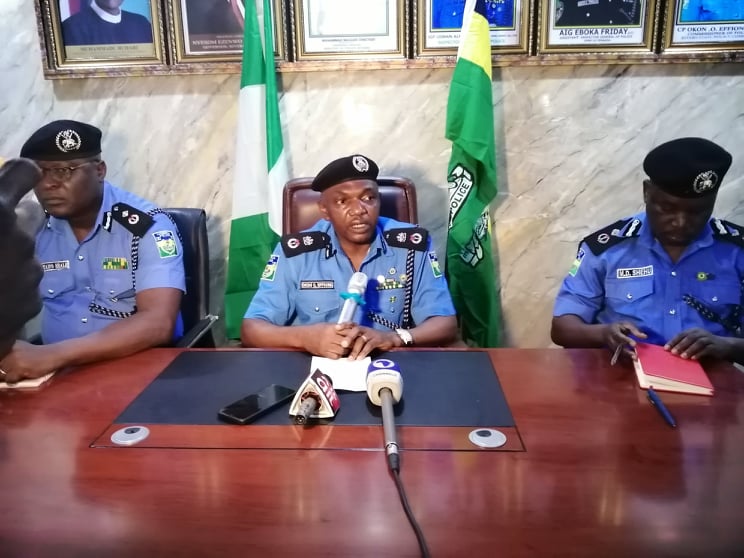 Leave The Forest & Surrender Your Weapons Voluntarily, Rivers CP Offers 10 Days Clemency Window To Arms Bearing Cultist, Criminals
The Rivers state police command has raised alarm over the proliferation of arms, sophisticated weapons in the hands of miscreants across the state
Speaking to Journalist at the command head quarters in Rivers state,  the state Commissioner of Police Okon Effiong says  a lot of security infractions has been happening in the state, "in some instances life and properties would lost, but as a responsible Law enforcement agency, we will not sit back and allow lives to be Lost, or allow security to be Jeopardize , if we do that we would have failed in accomplishing our mandate and therefore conceited efforts have been made to take effective actions, that from today we will clap down on cult activities across the state.
"we have witnessed situations where firearms are brazenly displayed on the streets of our towns, saying that abnormal wont be allowed as  Nigeria is not a lawless country, neither is rivers state a lawless state, Arms are prohibited and must not be in the hands of unauthorized persons, if that happens, the consequences will be far too reaching and  as part of our efforts to curb this arm, we are raiding every location that we have information that arms have been stored . it is going to be a Mop up of operations".
The CP noted that this morning we have started with, with Bodo in Gokana Local govt and as we speak that operations is ongoing and as far as this operations id concerned we would respect the rights of every Nigerian, by insisting on the rules of engagement,
let me remind us that this operations has nothing to do with politics or religion, the tasks is simply to eradicate our society of arm bearing miscreants who daily are terminating the lives of innocent ones, this operations is going to be a continuous one until the desired result is achieved to rid our communities of prohibited firearms
the CP also explained that if theses arms are not curtailed could threaten the peaceful conduct of 2023 elections because those arms bearing youths could easily becomes thugs for politicians but says they we will not fold their hands and allow that to happen
Now we are going to open up a window of clemency, that means we will not prosecute anyone who uses this window to surrender their arms and weapons. we have ten days from todays and call on our youths, so called cultist, to leave the different forest they are living in right now and return to the main society we are giving ten days window of clemency for them to come out and surrender their arms and within this period we will not prosecute them, but after ten days we shall go after them, investigate and make them face the Laws of the land