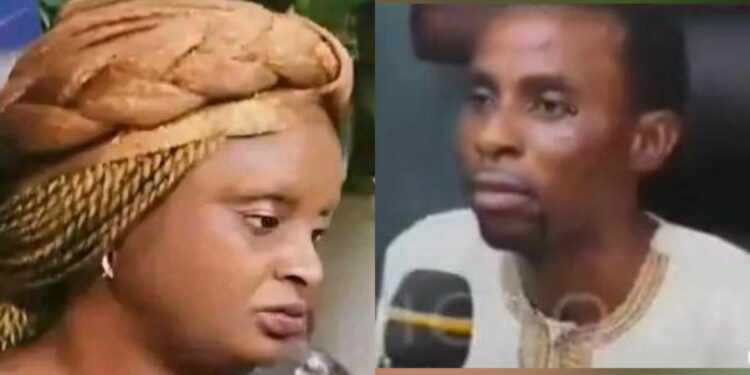 Man In Tears, Drags Church Choir Wife As DNA Test Reveals He Is Not The Biological Father To His 4 Kids
moment a 44-year-old Nigerian man, identified as Mr. Olanrewaju Kolawole, in a  viral video was captured as he burst into tears while disclosing how DNA test results revealed that none of his four children was his biological child.
The man, who hails from Ikire in Osun State, and his wife, Mrs. Tella Toyin, shared four kids together, namely Ayomide, 16, Sarah, 12, and two other children aged 8 and 5 years, respectively.
However, the case of paternity fraud was revealed when the couple appeared on the popular radio show; 'Kokoro Alate', on Agidigbo FM, Ibadan, anchored by Oriyomi Hamzat.
Following the initial DNA test of the first child, which revealed that the child doesn't belong to him, Mr. Kolawole claimed to have subsequently carried out tests on the remaining three children, all returning negative results.
He said, in part, "I want Nigerians to come to my rescue because I must not suffer this in vain. I married Toyin in 2007 and gave birth to four children. She gave birth to four children, but none of them belongs to me after findings from a DNA test."
When asked why he decided to conduct the test in the first place, he said he made the decision to carry out the tests on his children after noticing some promiscuous moves from his wife.
The DNA test was conducted at the DDC DNA Diagnostic Center in Osogbo.
However, reacting to the development, Mrs. Tella Toyin disagreed with the results, saying that she was not there when they took the sample and didn't know which samples were taken.
She said, "I don't accept the result. I don't accept it because I was not there when they took samples, and I don't know which sample they took, so I don't accept it. I can't accept it because I know how I conceived those children."
It was reported that the couple, who got married in 2007, are members of their church choir group in the Ikoyi area of Osun State.