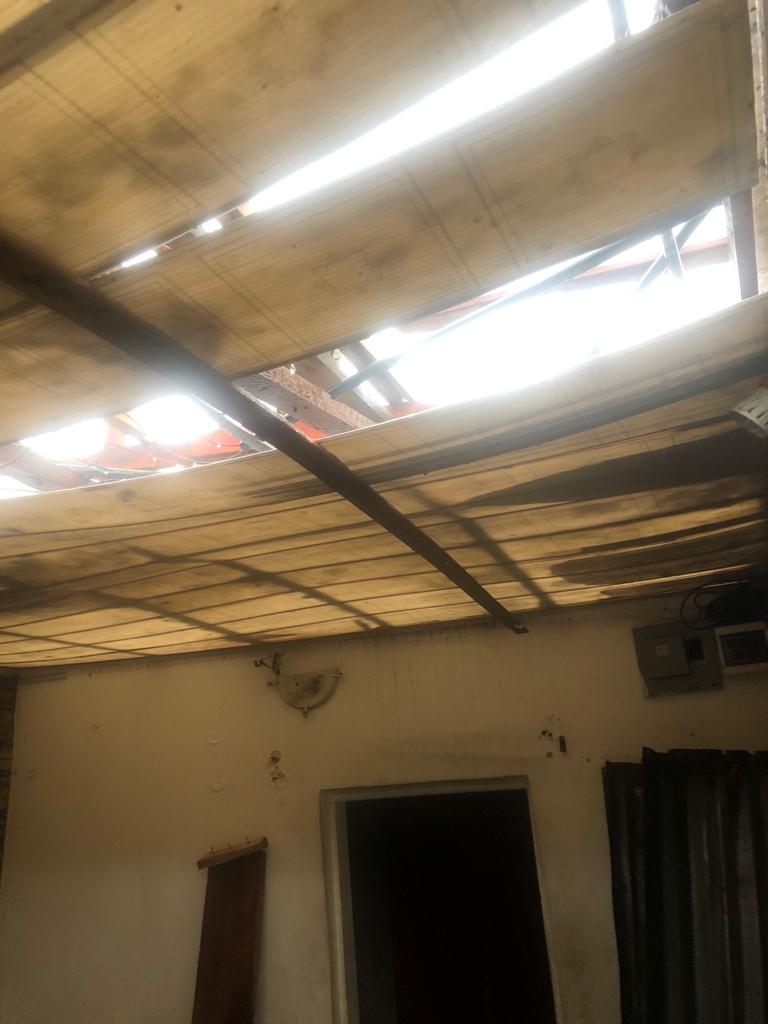 Mother Of 3 Groans, Stranded As Angry Landlord Deroofs Apartment Over Failure To Pay Owed Rent
Ms. Ikebulam Ogochukwu a resident of 20 Post Office road, YKC, Woji, Porthacourt and a mother of three children is now stranded with her three children and calling for Justice after her landlord, Mr. Obinna Eze allegedly sent somebody to deroof the woman's apartment for owing him rent.
Ms Ogochukwu's property has also been destroyed by the series of rainfall after her apartment was deroofed allegedly by instructions of the landlord, we learnt.
In an interview with Journalists Ms. Ogochukwu said
" I live at 20 Post Office road YKC ,Woji Porthacourt .I am a mother of three, I was owing my landlord some rent which  I promised to pay but for the meantime I did not have the money to pay .
"I pleaded with him to give me some time that I was going to pay only for him(Landlord ) to send his Engineer to come and deroof my house. He deroof my house, all my property in the house all soaked, everything destroyed .I am begging the general public and the Police to look into the matter because it is inhumane. How can somebody treat his fellow human being like this? it is not fair.
"I was there when they came to deroof the house. I was in the house that morning when they came. I thought it was even a joke .I was asking the Engineer why he is trying to remove the roof of my house, he now said he was given an order by the landlord to deroof my house.
"I have reported the matter to Woji Police Station and the Police came to the invite them to the station, they said they will come, they did not come ,since then they all ran away, we are looking for them".
Meanwhile a human rights advocacy group Lawyers Watch For Justice International Initiative has described the alleged action of the landlord as callous.
In an interview with Journalists, a lawyer with the group, Gbenga Oladapo said the law frowns as such wicked, callous and dastardly act .
Mr Oladapo asserted that everybody involved both the landlord who ordered that the house roof be removed and the Engineer who executed such wicked order should be arrested and prosecuted .
The lawyer stated that it is malicious damage to property. He said the alleged act by the landlord exposed both the mother and her children to grave danger.
He noted that It is unacceptable, it is reprehensible, it is highly condemnable and those involved, should be arrested to serve as deterrent to persons who feel they can take the laws into their hands in a Civil Society.
Mr. Oladapo clarified that the recovery of premises law of Rivers State does not tolerate such act as no landlord whosever he may be ,even if the tenant is owing a hundred million has the right to deroof the tenant's house without the order of court.
Mr Oladapo added that any landlord who feels he or she will evict a tenant is expected to go to court and get the order of court to evict that tenant and not to deroof the house of the tenant .
Meanwhile the landlord Mr. Obinna Eze did not pick several calls put across to him by our reporter neither did he reply to text messages and WhatsApp messages sent to his mobile lines as at time of filing this report.
The spokesperson for the Rivers State Police command SP Grace Iringe Koko was yet to respond to text messages sent to her mobile phone