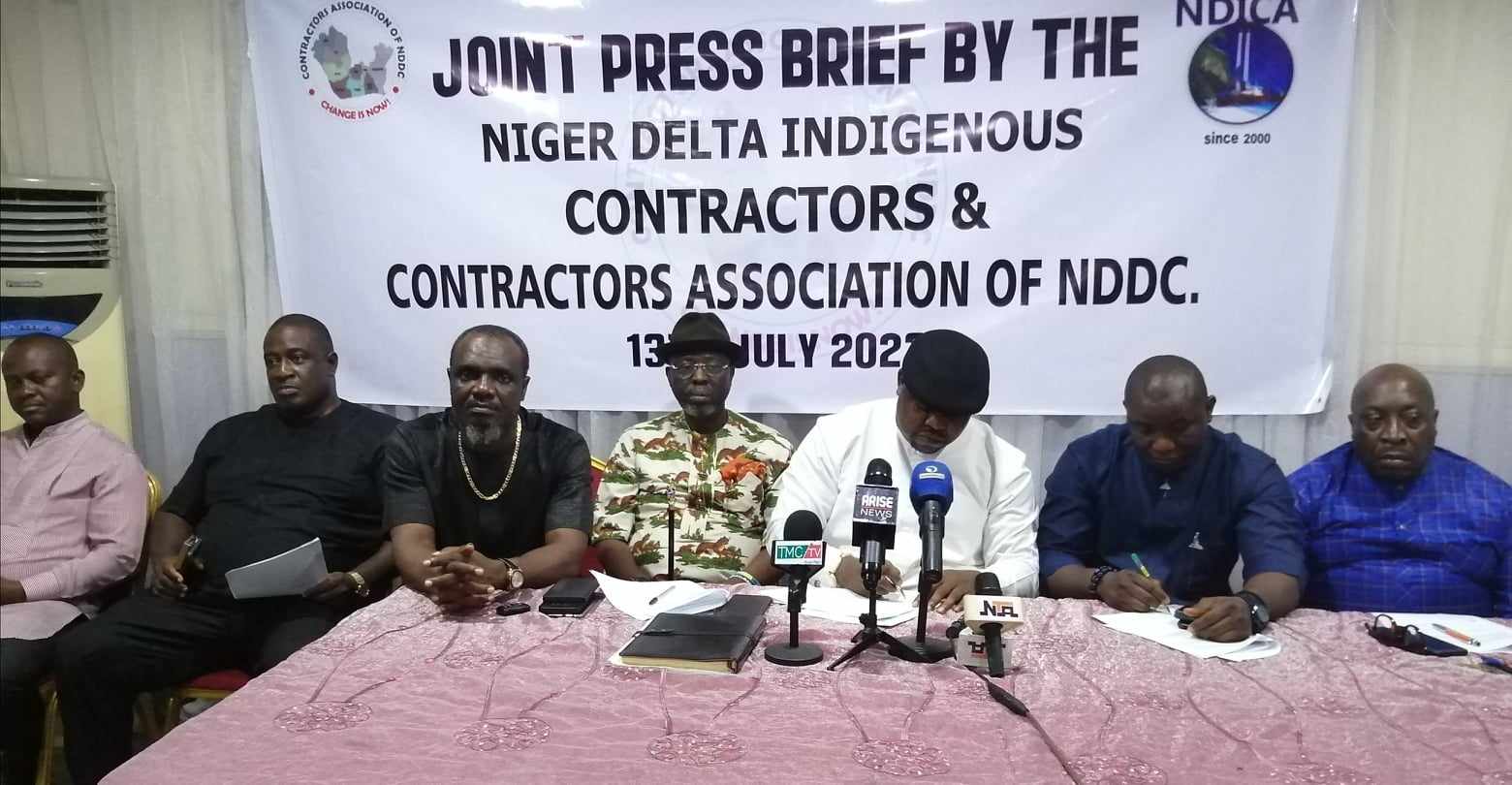 Niger Delta Contractors Appeal To President Tinubu To Re-Appoint NDDC MD, Demand For Release Of Approved Budget
Contractors working for the Niger Delta Development Commission Under the aegis of Niger Delta Indigenous Contractors and Contractors Association of NDDC, has called on the federal government to urgently release the sum approved for the commission's budget.
Speaking on behalf of the the Contractors at a press conference In Port Harcourt on Thursday, the National President of NDICA, Dressman Darlinton-Gbolobofa, said   "So we are pleading with the federal government to release the funds to the commission so that the MD and his team can carry out their functions effectively. he decried the delay in the release of the funds, saying it was affecting the agency's performance.
Recall that the Senate had in May approved over N1 trillion for the 2021 and 2022 budget of the commission.
"It is one thing for the budget to be passed and approved, and another to fund the budget.
They also appealed to the Federal government  to also pay the international oil companies, IOCs, operating in the Niger Delta region, as a matter of urgency, pay off over $800million owed the Niger Delta Development Commission, NDDC, over the years.
"if remitted, the money would go along way to ameliorate the developmental problems of the Niger Delta region.
He said the release of the funds will enable the interventionist agency function optimally and effectively deliver on its mandate of ensuring the development of the crude oil and gas rich, but impoverished region.
Darlinton-Gbolobofa added, "It is one thing for the budget to be passed and approved, and another to fund the budget.
Similarly, he called on multinational oil and gas companies operating in the region to fast track the release of their funds to the NDDC to enable the management resolve its 'contractual liabilities'
While lauding President Bola Tinubu for the dissolution of the board of some federal parastatals, the association thanked him for sparing the NDDC management led Dr Samuel Ogbuku, describing him as a man of 'proven integrity and competence'.
The NDICA National President stated," The commission under Dr Ogbuku has led the way to sensitize the Niger Delta youths on the dangers of pipeline vandalism, illegal oil bunkering/refining activities in the region.
"We therefore pass a vote of confidence on Dr Samuel Ogbuku led management team of the NDDC and urge President Bola , for the sake of continuity and stability to consider and confirm them for reappoint".