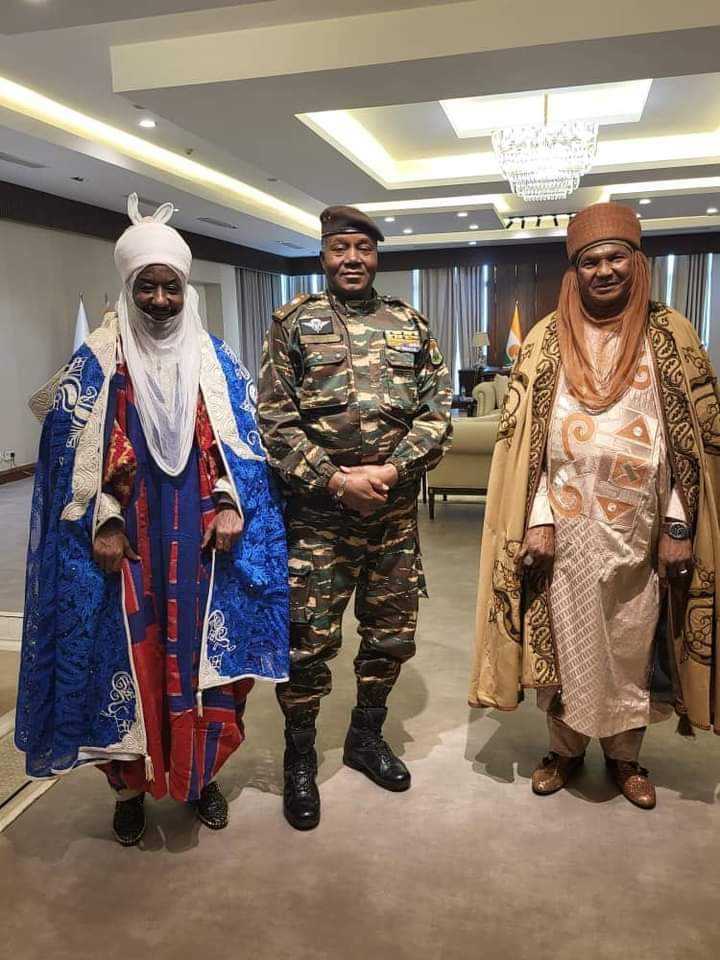 Niger War Quagmire: What Kano Emir Sanusi Told Coup Leader After Meeting
The 14th Emir of Kano, Muhammadu Sanusi 11 on Wednesday met with the coup leader of Niger Republic, General Abdourahamane Tchiani.
The meeting, which reportedly focused on the way out of the quagmire in Nigeria's neighboring country, was held in #Niamey.
ECOWAS leaders are scheduled to meet tomorrow after the 7-day ultimatum issued the coup plotters to return the country back to civil rule failed on Sunday.
Niger's military coup leaders accused French troops of violating the country's airspace and plotting to destabilize the West African nation.
The accusation came on Wednesday amid rising tensions in the country following the military coup that removed President Mohamed Bazoum from power.
In a statement issued on national television, the junta affirmed that a French aircraft had violated Niger's airspace, adding to their concerns that a bigger plot to unsettle the troubled West African country was imminent.
According to the Anadolu Agency, Col. Amadou Abdramane, the junta's spokesperson, suggested that French forces could be nursing ulterior motives to create an atmosphere of generalized insecurity to "discredit" the caretaker government calling itself the National Council for the Safeguard of the Country (CNSP).Abdramane added that the French government had freed 16 terrorists who were incarcerated, asserting that the freed assailants planned an attack Wednesday on its National Guard position.
The attack targeted Niger's National Guard position in the Tillaberi region, which borders Mali, Burkina Faso and Benin, the spokesperson alleged in a statement on national television.
The attack has prompted Niger's authorities to declare a state of high alertness across the country.
The CNSP alerted national and international community of "events of extreme gravity in progress in Niger," attributable to the French military forces, the junta spokesman said.
The junta, which recently appointed a transitional prime minister, has been keen to assert its authority promising to ensure Niger's stability.
France, a former colonial power in Niger, has maintained a military presence in the Sahel region as part of counterterrorism efforts.
French officials are yet to comment on the accusations.