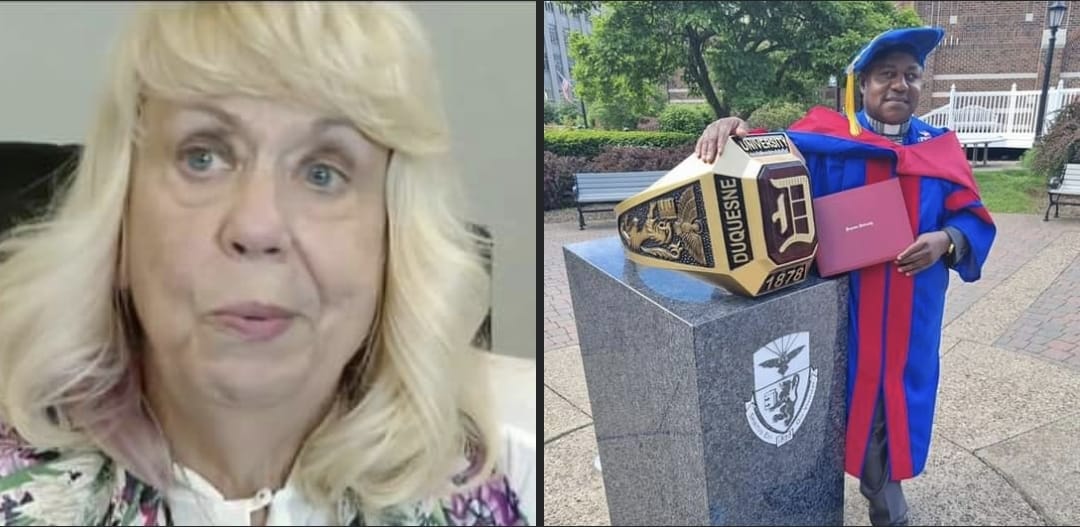 Nigerian Catholic Priest Vindicated Of Rape Accusation By American Women, Graduates At Last
JUSTICE AT LAST: NIGERIAN CATHOLIC PRIEST VINDICATED OVER ALLEGED RAPE ACCUSATION BY USA WOMAN.
Many are the afflictions of the righteous: but the Lord always delivers him out of them all. (Psalm 34 : 19).
Congratulations to Rev Fr. Duru who has been vindicated on the false malicious sexual accusation made against him by one Kathy Coll from Pittsburgh, Pennsylvania, United States of America.
According to the investigations, she began this her devilish plan on one Sunday afternoon after mass. As Fr. Cyprian was heading to the sacristy about to take off his priestly attires, this lady Kathy Coll ran after him, requesting to snap Fr. Cyprian a picture which he hesitated to consent to it due to doubts of her motives. But after consulting with the Pastor of the Parish, who gave his authorization, then Fr. Cyprian accepted to pose for the photograph. The next thing was that the lady started using that picture in making reports to Church and government authorities, laying sexual accusations against Fr. Cyprian, this happened since 2016. Both the government, Church and other concerned authorities, including the authorities of the Duquesne University where Fr. Cyprian was doing his Master and PhD programs and also serving as a priest, respectively, all began investigations to find out the truth about the matter.
After all the painstaking investigations, Fr. Cyprian was vindicated, he was declared innocent of the accusation, as Kathy Coll has no substantial evidence to back up her claims and the matter was thrown into trashcan. Also, during the investigations, it was gathered that the Lady has a gang and they've taken this as a serious and lucrative enterprise. Most often, they falsely accuse some priests and others as a means to make huge money in return from different people or institutions, but in this case of Fr. Duru, they failed. To God be the Glory!
Today, Fr. Cyprian Duru has successfully finished his Master's Degree and PhD Degree in Biomedical Ethics at the same Duquesne University, Pittsburgh, Pennsylvania, United States of America.
On this note we write to the general public to set the record straight on the true position of this matter. We have necessary documents attached to this write up that clearly declared Fr. Cyprian Duru innocent of all he was accused of.
Note: Every critical person knows that if the allegation is true in this modern world, even if it involves the American President, there is no way such a person could be allowed moving freely in the same United States of America, not to talk of continuing his studies till graduation with "First Class" results in Biomedical Ethics at the Duquesne University, Pittsburgh, Pennsylvania. Ever since then till date, there were no further charges, trials, indictments, or settlement, or jail terms pronounced.
Of course, in situations like this, "Falsehood" is likely to run and spread faster than "Truth". But with patience, time, diligence and objectivity, coupled with God's grace, the almighty awaited "Truth" must finally surface to shame all forms of wickedness, agents of darkness. Suffice it to add that with God on your side "there is always brightness at the end of every dark tunnel".
Today, history will continue to remain appreciative and thankful to all the various teams of investigators (Ross Township Police Department, Office of Alleghey District Attorney, the entire family of Duquesne University and other legal experts or attorneys) who remained determined, thorough, objective, diligent, without being subjected to any forms of sentiments or external influence, during this period of investigations.
May God forgive and change the hearts of those who seek for the downfall of others.
Jesus said to His disciples, "Stumbling blocks [temptations and traps set to lure one to sin] are sure to come, but woe (judgment is coming) to him through whom they come! Luke 17 : 1.