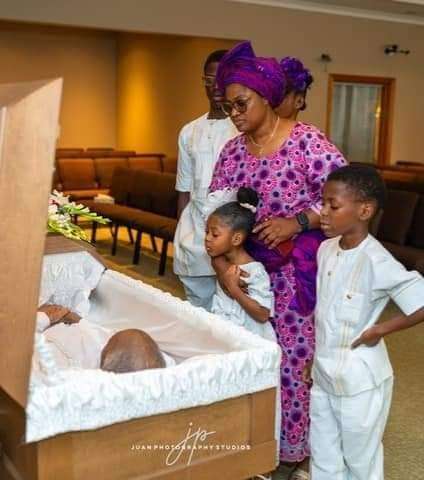 Nigerian Woman Reconciles With Estranged Husband On Sick Bed, Then He Dies Hours Later
A Nigerian woman has mourned her estranged husband who she reconciled with on his sick bed the same day he died.
Taking to her Twitter page, the lady, Temmy Omoileri wrote;
"I was summoned suddenly to the hospital after almost three years of separation. He was on the sick bed, seeing each other again, reminded me of the many dreams I've had about him and how I was the one telling him I don't have anything against him again.
I did the same, he was calm, he responded positively to everything I said to him, I apologized for the wrongs I did, which was to call the cops, I told him the devil did us great evil and we can start all over again.
I asked if I should go home and make food for him, he said yes, oh, what a joy! I miss cooking for him, I told him, our kids are fine and standing by him on the bedside was my 13yrs old, and I said, I never fought you back, I've been waiting and hoping that all this war will end one day.
The SW said he was okay that I came,
There's a me that's feeling hopeful that he's going to come back home and all shall be well again.
Only for me to be called again late night that he died. I was confused, I ran to the hospital confused, my sight became blurry, and I couldn't imagine me seeing him dead. I was hoping we would talk about everything and how much I had learned and suffered alone with the kids.
I was hoping I would get the opportunity to tell him, he hurt me so much and made me suffer like a criminal that I wasn't. My head went blank.
I had bladder loose.
I couldn't comprehend anything. I was numb.
I was summoned to pick up his body. Where do I go from here, koyemi.
I was handed over all his house keys, car keys, credit cards, everything!!!
Still in shock, I visited his home to move his stuff back home, and my heart kept breaking as many things were being revealed at that time.
He has different types of concoctions sent to him from Nigeria by his families that he's been taking, which led to his kidney damage.
I realized I'm the one who often scrutinized his intakes..
12 years of marriage, he never visited the hospital or had any course to be admitted.
I began to hear many things.
I have questions I couldn't answer.
It feels like the enemy planned it all out.
During his burial, I saw his eyelids moved, oh, I was going to say, "Prince, oya get up, let's go home."
I realized that despite all that happened, at the end of it all, he was my responsibility to care for after he died.
I said to myself, where are all the people who encouraged him to wage war against his only family? They are nowhere to be found.
We are by ourselves now! Me, him, and his kids.
This is family! Never allow anyone in your marriage. When it's all done and clear, it's gonna be you and him and your kids.
There's no one else again who's as important as your wife/husband. Only my signature was accepted, I was told you're his next of kin, and he didn't change anything despite his rage.
My heart kept aching.
Nobody else matters at this moment, but his family. Please don't let love and forgiveness diminish from your home, no matter how bad the situation looks. We only know the beginning of war, but we never know the end of it.
I thank God I was able to speak to him, I told him, I never fought you, despite all that you did to me.
He was quiet, I told him, "I do call you, but you don't answer my call.
But, it's fine, let's forget all that happened and move on. But he chose to go REST from it all.
Adieu Adewale"
IGBERETV