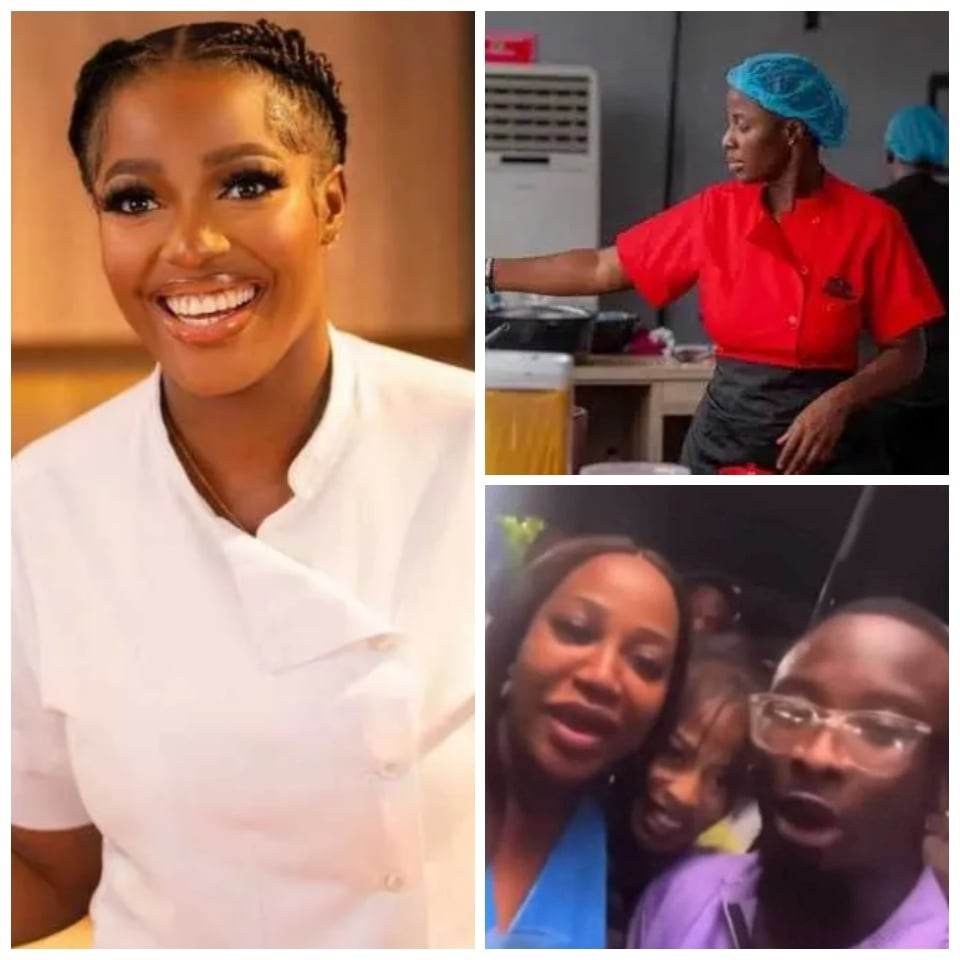 Nigerians Defy Rain To Eat Free Food As Chef Hilda Baci, Hits 85 Hours "Cook-a-thon" To World Records
Peter Obi's wife, Margaret Brownson Obi was live at the venue to support #HildaBaci's quest for the #GuinnessWorldRecord. Lagos governor, Sanwo-olu had  earlier  also visited, so many dignitaries has sent in their support urging the chef to go on with Gods strenght.
Nigerian chef and entrepreneur from Akwa Ibom-born lady, Hilda Effiong Bassey, popularly known as Hilda Baci, is
This is coming after the chef hit the 85-hour mark on Monday morning, with less than 3 hours remaining to set a new world record.
The restaurateur kick-started the competition on Thursday at exactly 4pm after she turned on her cooker.
She aims to beat the 87 hours 45 minutes record set by the current Guinness World Record holder, Lata Tondon, an Indian chef who made the feat in 2019.
The event, which is taking place at Amore Gardens in Lekki, Lagos, is being live-streamed on YouTube, and several celebrities, including Nigerians who have defied rain physically cheering up the visibly tired chef up.
Baci hit the three-day mark on Sunday as several attendees cheered in support.
The cook-a-thon's Instagram account, @hildabacicookathon revealed that the event is headline sponsored by GB Foods. Other sponsors include Arla Foods, BaigeWallet, Filmhouse, Jumbo, Uber and Woodscope.
The current record for the longest cooking time by an individual is held by Chef Lata Tondon, who was reported to have spent 87 hours, 45 minutes, and 00 seconds cooking in Rewa, India, in 2019.At a press briefing earlier in April, Baci, who is just 27 years of age disclosed that she became "infatuated with the world record" since childhood.
The multi-talented TV producer, actress, and chef noted on Instagram that she was going to make her five-year-long dream a reality, stating that she will cook for four days and four nights to break the 87 hours record by Chef Tondon. At a press briefing earlier in April, Baci, who is just 27 years of age disclosed that she became "infatuated with the world record" since childhood.
Though Baci would be doing the cooking alone, she needed the help of extra people to assist in other things. Earlier on Sunday, Baci replied to a tweet where Guinness World Records wrote, "Today is a good day to break a world record", with "I'm on it."
The young lady has been receiving accolades from Nigerians who have been showing her support on social media pages and also attending the venue of the event.
Baci owes a food brand in Lagos called "My Food by Hilda." Reports showed that during the four days cooking streak, Baci is not expected to take coffee, stimulants, or any energy drink to boost her energy and bodily strength as she must cook artificially. She is, however, allowed to eat food, drink water or fruit juice, & take glucose. Baci cooks all day with no sleep (Morning, afternoon, evening, and night).
During this time, she has just 5 minutes rest per hour [meaning for every 1 hour, she is entitled to just 5 minutes rest or break, an hour break every 12 hours].
She also gets a 30-minute break every 6 hours.  Baci spends the 30mins in a medical van which is just close by, within which she can nap, use the restroom, and also get a medical assessment or checkup by the medical team available on the spot.
Another thing worthy of note is that whatever Baci cooks are shared with the people at the venue for FREE.
She is expected to cook different meals simultaneously and she is at liberty to cook any meal she likes as there are no restrictions as to what she can cook or not cook.
Baci has cooked over 115 meals as of the time of writing this report, while every meal cooked and every plate served is recorded. is expected to complete the target time frame by Monday 15th May 2023 evening.
Baci tagged her cooking project "Cook-a-thon", a phrase literally coined from the word "marathon". It was gathered that most of the food items, ingredients, utensils, etc she used for the cooking project are provided by her sponsors.