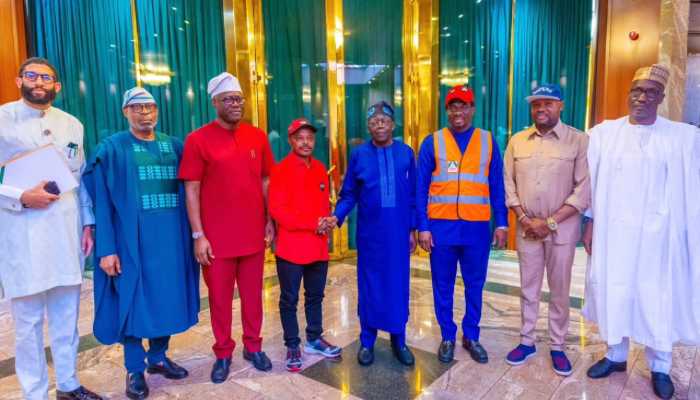 NLC/ TUC "Next Line Of Action" After Meeting With President Tinubu In Asorock
The organised Labour has described their discussion regarding subsidy removal palliatives with President Bola Tinubu as fruitful and productive.
The President of Nigeria Labour Congress, Joe Ajaero, speaking to State House Correspondents after the meeting at the Aso Rock Villa, revealed that they thoroughly examined the President's proposed measures, as the concerns that sparked the protests persist.
He, however, did not provide any assurances regarding the cancellation of the nationwide protests against the economic difficulties resulting from the removal of petrol subsidies.
On whether the strike will be called off, the NLC President explained that it's a decision that will be taken after the union's executive meeting Wednesday night.
The President had in a nationwide broadcast on Monday outlined some palliatives which the organised labour described as not far reaching enough.
Ajaero disclosed that the President explained certain things hitherto not in his nationwide broadcast to them at the meeting.
He said "We met with him (President); issues are the same issues that led to the protest today. He has expressed his position; made some commitments which are taken side by side with what the National Assembly, the Senate said, and we're taking it back to the office with our colleagues to review it and release a document on our next line of action."
On whether the President urged them to call off the strike, Ajaero said no one person could do that disclosing however that the National Executive Council (NEC) of the NLC would meet today (Thursday) to decide on the next line.of action.
"No one person can call it off. That's why I say we'll have to go back to the office so that they will look at it at the Exco before they come up with a decision and by tomorrow look at the bigger picture on whether to suspend the protest. The President is a pro democratic activist so he understands protests," he said.
The meeting was also attended by the President of the Trade Union Congress (TUC) of Nigeria, Festus Osifo and President of Nigeria Union of Petroleum and Natural Gas Workers [NUPENG], Comrade Williams Eniredonana Akporia, NNPCL Group Managing Director, Mallam Mele Kyari etc.