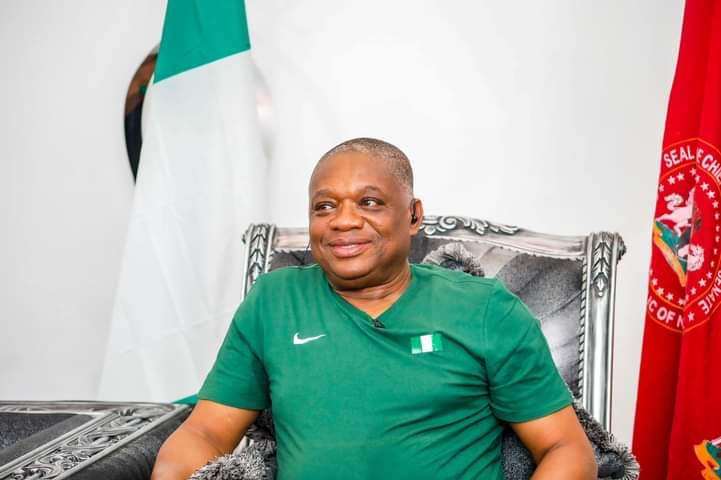 Ohanaeze Ndigbo To Tinubu: Beware Of Orji Uzor Kalu Emilokan Antics, He Will Beat You One Day As Senate President
A chieftain of Ohanaeze Ndigbo, apex Igbo socio-political organization, Okechukwu Isiguzoro, has warned against Abia North Senator, Orji Uzor Kalu becoming the Senate President.
Isiguzoro, the Secretary-General of Ohanaeze, warned that Kalu would beat the President-elect, Bola Tinubu, as a Senate President.
He spoke while rubbishing claims Kalu made that it was his turn to become the Senate President.
Addressing journalists on Tuesday, the Senate Chief Whip said his wide range of experience across the country makes him the most suitable person to be the president of the 10th Senate.
Senator representing Abia North Senatorial District became the first senator to openly declare his intention to be Nigeria's third most powerful political personality.
Isiguzoro in his Reaction said, "There is nothing like emilokan in the Southeast; Orji Uzor Kalu is not our Emilokan, that is a Yoruba coinage; we are Republicans here.
"The leadership has decided that the senate President should go to Ebonyi; it's the only state with three senators in the Southeast, so Emilokan is in Ebonyi, not Abia State.
"Igbos can't present somebody with an EFCC case, Igbos can't present somebody as Senate President that would be disgraced tomorrow, Igbos can't present somebody facing trial with EFCC, Igbos can't present somebody who can't solve the insecurity crisis in the Southeast. Igbos can't bring somebody who doesn't believe in Southeast Presidency.
"He is on his own, Ohanaeze disown Orji Kalu over his Emilokan, and we have a position on Umahi and if Akapabio became a Minority Leader as a first-timer, we are working on that arrangement for Umahi to emerge as the Senate President.
"Orji Kalu would beat Asiwaju as the Senate President; there is nothing like Emilokan in the Southeast, Orji Kalu has a lot of EFCC baggage, and he should clear himself first before talking about the Senate Presidency. He should submit himself for trials.
"Ndigbos can't afford to gamble with his candidacy because he is controversial. The 10th assembly must amend their rules base on what they did to Akapbio as a first-timer. Orji Kalu would beat Asiwaju as a Senate President, so we are nominating Umahi."
Daily Post