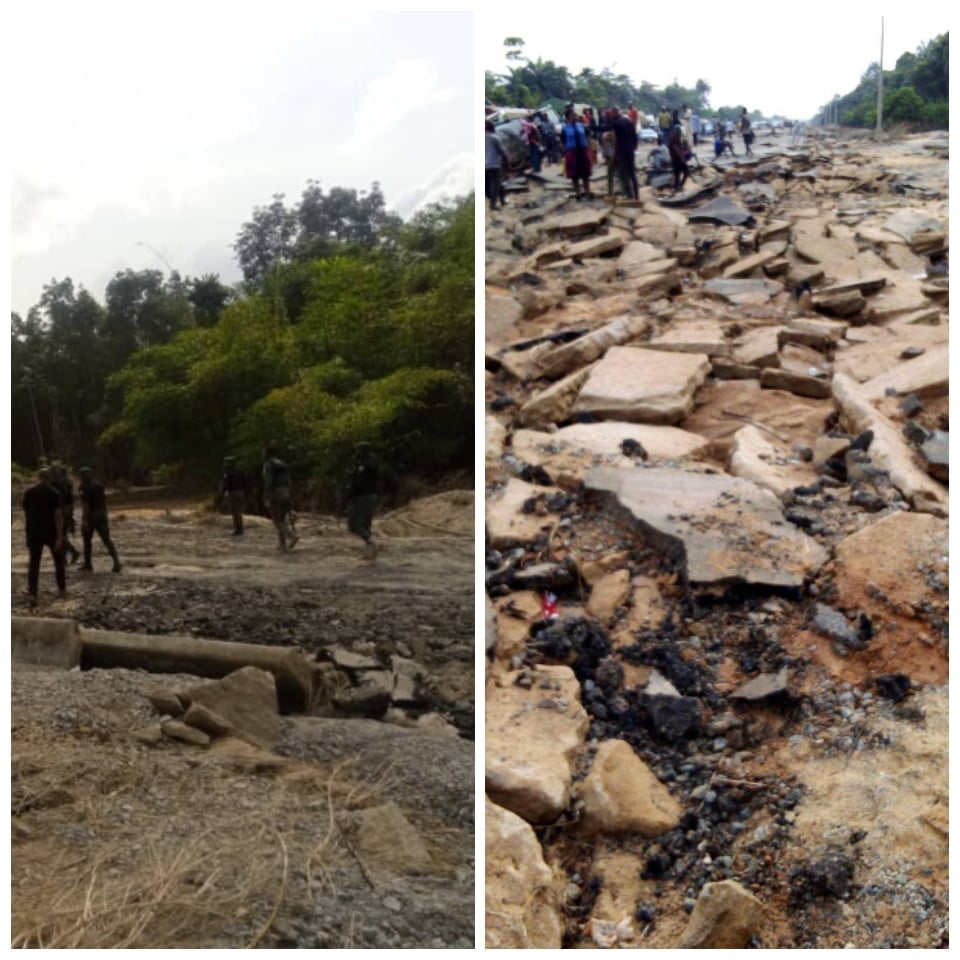 Panic As Devastating Floods Worsen Hunger, Fears, Diseases In Rivers Communities-Special Reports
A trip to the Orashi region in the oil-rich Rivers State reveals pathetic plights, drought and poverty which have begun to rear their head following the devastation caused by the flood which has ravaged the areas.
Farmlands, houses, economic assets, small and medium enterprises, Schools, hospitals, and business centers, among others have been destroyed in the region made up of four local governments: Abua/Odual, Ahoada East, Ahoada West and Ogba/Egbema/Ndoni.
The affected communities are largely dominated by peasant cassava and plantain farmers, and small-scale businesses but sadly, their farm produce and processing centers and business centers have been overrun by the flood.
Pained by the high levels of destruction, the locals ignore the risks and walk briskly in the over 4ft flooded farms to harvest their cassava in Edeoha and odiabidi in Ahoada East to avoid losing all to flood.
On a visit to the Odiabidi Community in Ahoada East local government area of Rivers state, a mother of six was seen harvesting cassava from the flooded lands in other to get what "she and her children can eat"
Another local, Mr. Ernest Sunday, who said he combines Okada riding with farming lamented that "rain has covered our farmland. I have over 20-farms and I don't have anything to harvest"
Similarly, observations show that some small and medium enterprises like Hair Dressing salons, mechanic worship, welder, tailoring workshop and learning facilities have been swept off by the ravaging floods.
Above are some of the sad tales of flood victims in the Orashi region of the State. Undoubtedly, this has begun to worsen the cost of food prices of food items, as a basin of Garri which was sold for N4,000 is now selling for N5,500, also a bag of local rice which sold for N36,000 last Month is now selling for N45,000. The prices of other foodstuffs like yam, palm oil and plantain have also spiked.
Climate change has been a troubling issue for people in sub-Saharan Africa. This has led to flooding, drought, poverty and sickness.
In the last month over 33 States in Nigeria, west Africa have been submerged by flood. Community members were sacked from their ancestral homes and residents were displaced from their original settlements. Businesses shut down and victims now live at the mercy of donations.
In the oil-rich Niger Delta, the case has remained worrisome, especially within the coastal areas. Community members have been forced out of their homes and are now settling in internally displaced person camps.
DONORS BESIEGE IDPs
Having lost their sources of livelihood and homes and now being sheltered in other communities and the government's Internally Displaced Person camps (IDPs), these natives and residents live at the mercy of donors. At the peak of the flooding, the Rivers State Government set up a committee to distribute food items to the displaced persons in the flood-prone areas.
Governor of the state, Nyesom Wike, constituting the committee announced the release of 1 billion nairas as an intervention for the mission. The committee led by the Permanent Secretary of government house, Dr Nweke and other members of the team daily took food items, Yam, rice, indomie and other relief materials to the camps in the affected area.
Similarly, several organizations; National Emergency Management Agency, International oil companies, and political parties including the Accord, All progressives congress and the Social Democratic Party have donated relief materials to the displaced persons.
In Okwuzi, Egbema in ONELGA, Dr Enyimba Ekpere an incident who oversees an IDP camp said they were yet to see government presence in the area.
Dr Enyimba disclosed that the camp have only received support from well meaning Rivers Sons and daughters. However, the displaced persons in some areas of the Abua, especially Emelogo community have decried neglect and abandonment by the government The people who have refused to leave their flooded communities to abua central said they were abandoned to their fate the last time government had directed them to a camp at the LGA headquarters.
HEALTH CONCERN GROW
There are raised concerns over the health conditions of people living in the IDP camps and those putting up with family members.
The concerns are borne out of the poor living conditions in the camps; sanitary and hygiene. In some camps, Some of the displaced persons have been down with malaria and other illnesses with little or no access to health care. While some medical professionals are stationed at the Abua central IDP camp, in Okwuzi in Egbema, Ogba Egbema Ndoni Local Government, the displaced persons claimed to not have sighted medical personnel
A nursing mother who spoke at a camp beside the health center narrated that despite the proximity of the health center to the camp, catering for their Medicare was sorely their responsibility. She noted that since she took refuge in the camp, her infant has been plagued with rashes which she has to access the counter pill to handle.
In Abua Central, medical personnel, at the IDP camp revealed that her team has been stationed at the camp for the last 3weeks. Although their responsibility was to immunize children to avoid outbreaks of harmful diseases, she and her team also provided primary health care
She said". We are here to give out immunization to avoid the outbreak of diseases. We had an outbreak sometime ago in Emago and we do not want a repeat of that because if anything happens here it will be disastrous but if we see any other treatment of minor ailments, we will help out" She also revealed that cases of malaria have been common complaints of members of the IDP community.
However, For the environmentalist, not much health care is being accessed by the people, Dr Kingsley Wobidi, Rivers State Chairman of Nigeria Environmental society says he is not comfortable with the level of medical intervention in the camps. Wobidi said aside from Total who is providing medicare for some IDPs in Ogba/Egbema/Ndoni, displaced persons in other camps "are living at the mercy of God's grace" "Hypertensive and diabetic patients among displaced persons need drugs, especially during this period," he said
A concerned indigene of Ahoada East, Uwuma Awala through her social media accounts has continued to call on organizations to donate drugs to her people. She said the health situation of the IDPs is critical and many need drugs Please donate"
Rivers State Chairman of the Nigeria Medical Association, Eddie Robinson, at the peak of the flood alongside state executives and journalists visited the flood prevalent areas, assessed the areas and administered some drugs to sick persons. Eddie also constituted a committee and also promised that the Association shall donate more drugs to the people.
NEMA WARNING IGNORED
National Emergency Management Agency in Rivers State in June 2022 advised people living in flood-prone areas to ensure they keep their drainages clean. South-South coordinator of the agency GODWIN TEPIKO in an interview said that from July to September 18 out of the 23 Local Government Areas in Rivers Stare will experience highly probable flood risks.
The LGAs are: Ahoada East, Ogba Egbema Ndoni, Andoni, Degema, Ogu-bolo, Ahoada West, bonny,abua odual, Port Harcourt, Degema, Obio/Akpor, Ikwerre, Gokana, Okirika, Asari Toru, Eleme, Opobo Nkoro and Emohua Local government area of Rivers State He advised residents of these areas to begin to engage in preparedness and mitigation and activities that will ensure that the impact is not highly felt.
GODWIN also advised residents to begin to engage in proper waste management as he frowned at the indiscriminate waste disposal in gutters and waterways. Sadly, the rains and the flood met the people unprepared and ravaged their hands.
SOLUTIONS
An Environmentalist, Dr wobidi says government at all levels must be intentional in its quest to nip the flood issue in the bud. Dr Wobidi said "if only the government has the willingness to nip it in the bud by identifying the problem and the root of it by putting a system in place that can check it"
The environmentalist noted that the if the current flooding is caused by the opening of a DAM, it should have been identified early and the system put in place to mitigate its devastating effects The recent flooding in parts of Nigeria is linked to the opening of the lagdo Dam in Northern Cameroon. According to reports, The water from the Lagdo Dam when released, cascades into River Benue, Niger and coastline states, causing heavy flooding of communities.
The National, Emergency Management Agency had earlier warned that disposing of wastes wrongly blocks the waterways which leads to a high rate of danger when a flood happens. NEMA called on the state government to monitor and ensure that buildings are not placed on waterways stressing that flood management is the duty of every individual and government at all levels.
Most submerged homes have collapsed and governments at all levels must begin to make plans for post-flood solutions. For those whose homes have been brought down by the flood, whose sources of income are hanging on the cliff and those whose health is been affected. What plans has government to address these prevailing issues after the flood? most families will have no home to return to and this portends greater danger. A mother of six in Odiabidi who spoke in a sombre mood (insert her name pls) said her "mud house has collapsed and I don't have a house anymore"
The government has been called to erect low-cost houses for those whose homes have collapsed as life becomes difficult without shelter and food. The flood victims are to be exposed to hunger, poverty and danger after post-flooding they have no homes to return to. Over 100 homes have collapsed in Ahoada East and West and life might be threatened when they have no place to lay their head.
The government and intervention agencies need to provide business support funds to victims of the flood. For those whose homes are wrecked and will be rendered homeless, a responsive government should be able to build low-cost houses and provide better Medicare for victims whose health has been impacted.
It is not gain saying that many farmers have lost their crops and the quality of the soil has soiled, government must rise on this occasion to assist peasants and commercial farmers with financial support to grow back their trade. The damages done by the flood are enormous and the reoccurring issues of the flood must be addressed. Conversation to find an end to this scourge must begin and government must be unrelenting in their resolve to end the reoccurring disaster.
By Faustina Nwanekwu