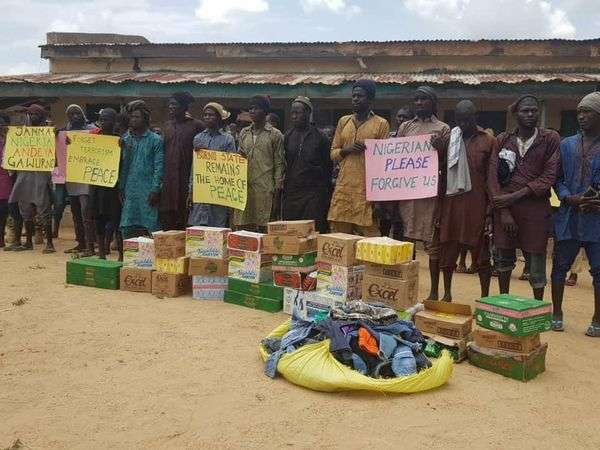 Panic Grips Residents As Repentant Boko Haram Terrorists Block Maiduguri Highway To Demand N30,000 Allowance
Hundreds of Nigerian Boko Haram terrorists who are being held at Haj camp in Borno State after surrendering rioted on Friday over N30,000 allowances promised by Government.
The ex-militant blocked the Bulumkutu- Maiduguri Highway creating gridlock and tension among residents in the area. Reacting, Prof Usman Tar, Commissioner, Information and Internal Security, said that Biometrics for repentant insurgents resume after incident. He said with normalcy restored, officials of Borno State Government have on Friday resumed the biometrics data capture of repentant Boko Haram insurgents. A total of 6,900 repentant insurgent are processed under the multi-agency framework of Disarmament, Demobilisation, Deradicalisation, Rehabilitation, Reconciliation and Reintegration (DDDRRR) otherwise known as the "Borno Model."
The data processing process was scheduled to be conducted in 6 Batches by by a certified team of intelligence and ICT experts with utmost level of professionalism and confidentiality in data management. However, due to a bridge in communication, those who were supposed to appear for the data capture at a later date appeared today, Friday, August 18, 2023, and this led to confusion at a camp where the exercise was being conducted.
The Borno State Government wishes to assure the public that the situation is under control and normalcy has been restored at the venue of the biometric exercise, "he said The incident illustrated the sensitive task which authorities face in re-inserting former fighters back into communities that have often suffered from years of attacks and kidnappings during a 13-year Islamist insurgency.
Updated Babagana Damaturu