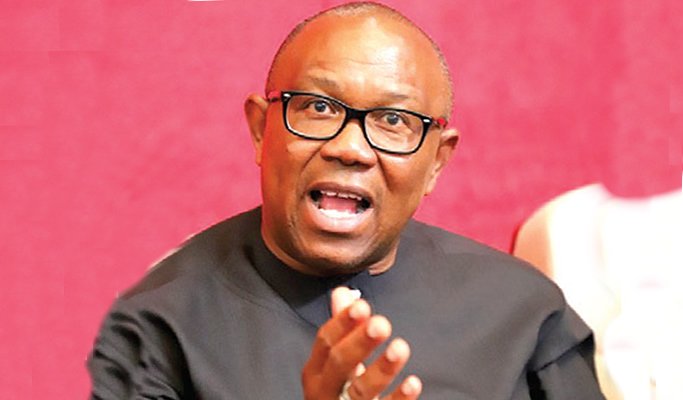 Peter Obi Laments INEC Refusal To Release Essential Documents About 25 February Presidential Elections
The Labour Party legal team  led by  Livy Uzoukwu (SAN), lead counsel for the presidential candidate, Peter Obi, has reiterated that the Independent National Electoral Commission (INEC) has refused to release all essential documents about the 25 February presidential election that the legal team needs to prove its case at the Court.
Briefing newsmen at the end of proceedings on Tuesday, Uzoukwu accused INEC of being biased and behaving as if it had a candidate in the election. He alleged that INEC is probably trying to manipulate the documents, before releasing them and vowed that the legal team would expose the electoral umpire when the hearing begins.
According to him, INEC is supposed to remain neutral and release every essential document requested by petitioners, and not resort to actions that frustrate them. Uzoukwu specifically mentioned Rivers State where INEC has failed to release documents requested by the party's legal team.
According to him, Rivers State has 23 local government areas but INEC has only released 15 of them.
"Up to this moment, INEC is yet to give us all the documents we require. I continue to ask, why is INEC behaving in this way and manner? what are they hiding? They are supposed to be neutral but they are behaving as if INEC is having a candidate in its own election. That should never be so. Nigeria is the only country where we have something like this," Uzoukwu said.
He added that such a biased attitude by an electoral umpire is never found in other parts of the world but in Nigeria.
"In quite a number of countries they (electoral bodies) remain neutral but in Nigeria, you see them frustrating petitioners; preventing petitioners from having access to documents."
On whether the LP legal team refused to pay the Commission to access the documents as claimed by Abubakar Mahmoud, counsel to INEC, Mr. Uzoukwu said the Commission is simply lying to the public.
According to him, the team had written to the electoral body notifying them of their willingness to pay for the document but INEC hasn't responded.
"We have written five letters indicating to pay and that we're ready to collect those documents. The letters were duly received and endorsed by INEC. Why are they telling lies to say that we couldn't pay? This is very unfortunate.
"What about the documents we have collected? Don't we pay for them? Of course, we paid for them and those ones were given to us but refused to give us others," Uzoukwu said.
Obi's lawyer said INEC has no choice but to release the documents, adding that the party would serve the electoral body a subpoena as soon as the hearing resumes on May 30 to compel them to produce the documents.
The lawyer said his team will manage the three weeks allotted, by focusing on the most essential witnesses that would help prove the case.
The Labour Party, the Peoples Democratic Party (PDP), the Allied Peoples Movement (APM), and their presidential candidates had filed separate petitions, challenging the declaration of Bola Ahmed Tinubu of the All Progressives Congress (APC) as President-elect by INEC. They joined Tinubu, Shettima, APC and INEC as respondents in their suits.
With the pre-hearing session concluded, the Court has merged LP, PDP and APM's petitions and fixed May 30 for the beginning of the hearing proper.
Speaking on consolidation of the petitions, Uzoukwu explained that all three petitions will be heard together, but each one will maintain its identity.