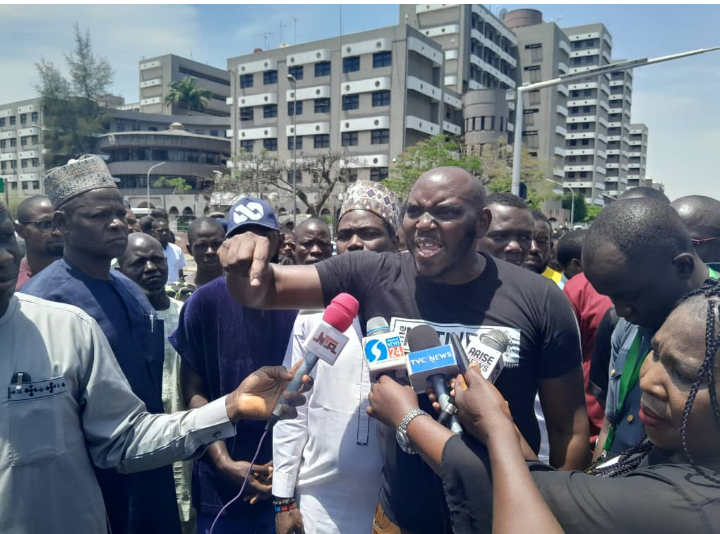 Reactions As Tinubu Supporters Protest Against Peter Obi, Atiku For Challenging Election Results
Supporters of the President-elect, Bola Ahmed Tinubu, on Monday staged a protest in the Federal Capital Territory (FCT) against Peter Obi of Labour Party and Atiku Abubakar of the Peoples Democratic Party, for challenging the 2023 presidential election results.
The supporters warned Atiku Abubakar and Peter Obi, presidential candidates of the PDP, and the LP against intimidating the judiciary by way of their decision to challenge the outcome of the February 25 presidential election.
The Tinubu supporters, who identified themselves as The Natives cautioned both candidates to permit the courts to address their grievances without intimidating them. Smart Edwards, leader of the group, told reporters at the venue that Tinubu, the candidate of the All Progressives Congress (APC), won the election because he was better prepared.
Edwards further argued that the PDP candidate was due for retirement in politics.
He said: "The Obidients should understand that Asiwaju is a political juggernaut and election strategist. They were all part of the plan because the candidature of Peter Obi was an asset to the APC.
"The Obidients made Tinubu's victory easy, they all made it possible. Ordinarily, it should have been Obi or Tinubu. Tinubu was not in the best position to steal the election but he planned well and worked vigorously for victory.
"We also have a message for the PDP candidate, Alhaji Atiku Abubakar; Your Excellency, it is your time to test the court and not to intimidate the court. It is your time to retreat and retire or reset and re-contest again if your party is not tired of you.
"Your inability to be consistent in a party like Bola Ahmed Tinubu shows it is all about you alone. No sir, the Supreme court is not about you, the Appeal court is not about you, and even the Tribunal is not about you, it is about rule of law.
"So, today we are putting the nation on notice that no one will be allowed to intimidate the Nigerian judiciary any longer, we will not entertain it. These judges and the judiciary are the most crucial party of the hope that democracy holds.
"We want to say categorically that Bola Ahmed Tinubu of APC won the election. The Lagos state he lost should have been a taboo but the Democrat in him publicly accepted the outcome without calling for anybody's head."
Source Daily reports