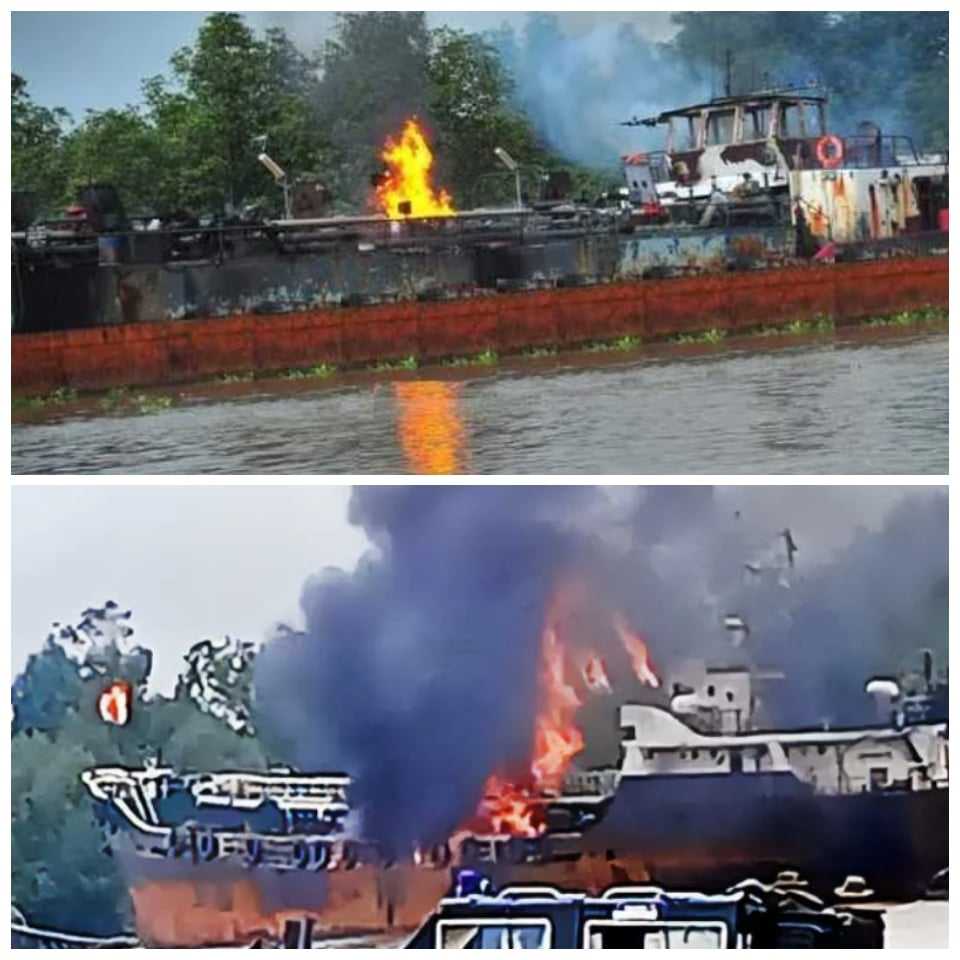 Security Agents, NNPC Personnel Watch As 150,000 Litres Of Stolen Crude Oil/Vessel Is Set Ablaze In Delta State
Operatives of Tantita Security Limited and Nigerian National Petroleum Company have set ablaze, a vessel Laddened with 150,000 litres of stolen crude oil in Delta State.
The vessel, MT TURA II(IMO Number:6620462) with Registration Number, RC 813311 is reportedly owned by Holab Maritime Services Limited. It was learnt that the vessel was conveying crude oil from Nigeria to Cameron when it was arrested with 11 Nigerians and one Ghanaian onboard on Saturday, July 7.Tantita Executive Director on Technical Operations, Capt. Warredi Enisuoh in a chat with newsmen said the government made a swift decision to destroy the vessel.
He said, "the whole idea of destroying the vessel is to send a strong message to all would-be investors that this is what they're to face if they tow this type of business."Enisuoh said illegal bunkerers and their sponsors should be ready to lose their assets as the government and security forces will do all it takes to bring them to book.
Our Correspondent who monitored the exercise reports that officials of the Nigerian Army, Nigerian Navy, Nigerian Airforce, Nigeria Security & Civil Defence Corps, Nigerian National Petroleum Corporation, NNPC as well as officials of the Delta State Government were on ground during the burning of the vessel.
Recall that the Chief Corporate Communications Officer NNPC Ltd. Abuja Garba Deen Muhammad in a statement said thus:-
Following the receipt of credible intelligence, a Private Security Contractor engaged by NNPC Ltd., Messrs. Tantita Security Services, intercepted a suspicious Vessel with a Cargo of Crude oil on board on July 7, 2023.
The Vessel, MT TURA II (IMO number: 6620462), owned by a Nigerian Registered Company, HOLAB MARITIME SERVICES LIMITED with Registration Number RC813311, was heading to Cameroun with the Cargo on board when it was apprehended at an offshore location (Latitude: 5.8197194477543235°, Longitude: 4.789002723991871°), with the Captain and Crew members on board.
Preliminary investigations revealed that the crude oil cargo onboard was illegally sourced from a well jacket offshore Ondo State, Nigeria. There was no valid documentation for the Vessel or the Crude Oil Cargo onboard at the time of the arrest.
Further investigation into the activities of the vessel at the NNPC Ltd. Command and Control Centre also revealed that the Vessel has been operating in stealth mode for the last twelve (12) years. The last reported location of the Vessel was Tin Can Port in July 2011.
Details of this arrest and the outcomes of the investigations were escalated to the appropriate Government authorities, upon which it was concluded to destroy the Vessel to serve as a strong warning and deterrent to all those participating in such illegal activities to cease and desist.
Destroying vessels involved in transporting stolen crude oil is of paramount importance as a strong deterrent. The illegal trade of stolen crude oil not only inflicts significant economic losses on Nigeria and legitimate stakeholders in the oil industry, but also perpetuates a cycle of corruption, environmental devastation, and social instability.
NNPC Ltd. assures Nigerians that we will sustain the momentum in the war against crude oil theft until it is brought to a halt.