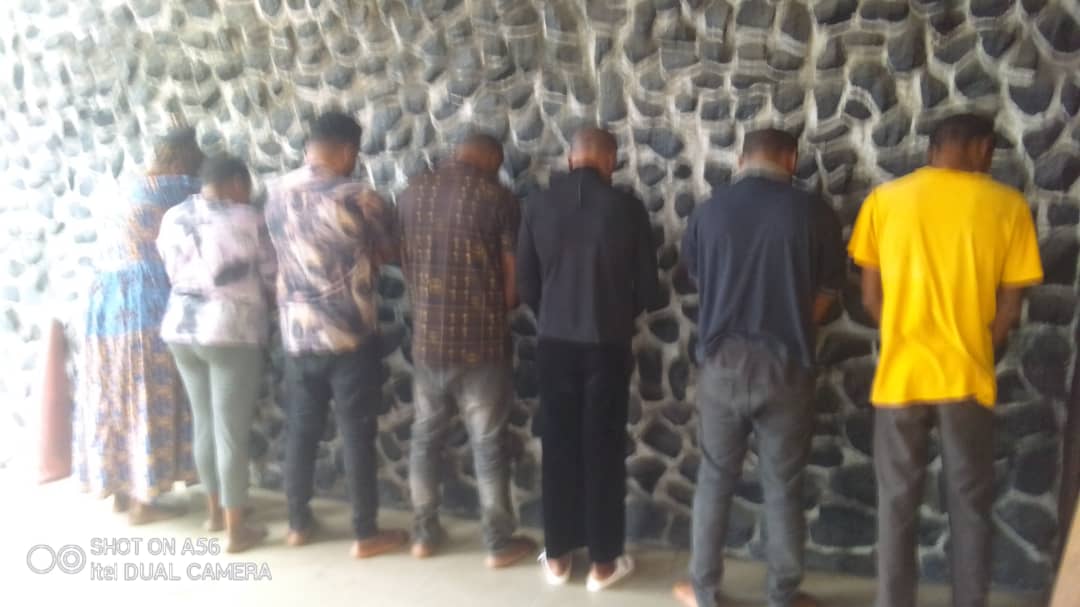 Seven Suspected Child Traffickers Arrested, 2 Children Rescued By Police Operatives In Rivers
Based on the Command's relentless efforts to drive criminals out of the state under the Commissioner of Police, Rivers State Command, CP Nwonyi Polycarp Emeka, psc, LLB, PhD, the Command have prevailed in yet another fight against criminals and criminality.
1. ARREST OF ARMED ROBBERY SUSPECT
The Rivers State Police operatives attached to Octopus Unit, Port Harcourt on Friday, 07/07/2023, at about 3.20pm, following an incident of Armed Robbery case where a victim name withheld was attacked on Saturday, 04/02/2023, at about 10.00am, alongside with three other members of the association at Abuloma Road, Port Harcourt. The gang of four armed hoodlums snatched a white Toyota Hiace bus, reg. no. KRD 310DU belonging to the Association.
The Armed robbers equally made away with their GSM phones, other personal properties, cash sum of One Hundred and Sixty-Seven Thousand Naira (N167,000.00), and some truck spare parts conveyed in the said Bus, valued at Three Hundred and Fifty Thousand Naira (N350,000.00).
A team of police operatives trailed and arrested one Bobmanuel Disreal 'M,' aged 35yrs identified as the group leader and who has been at large in his hideout at Igbo Etche, Port Harcourt. The suspect has confessed to his involvement in the crime. He also confessed to being a member of a notorious secret cult group known as the Black Axe Confraternity, and member of a dreaded armed robbery and kidnapping syndicate led by one 'Edu Boy,' a strong ally to Late Wordi of the Elibrada community.
The said Union Bus was recovered during the course of the investigation, and efforts are being intensified to arrest other members of the gang at large and recover their operational weapons.
2. RECOVERY OF A SNATCHED CAR
On Thursday, 06/07/2023 at about 1530hrs based on credible intelligence, a patrol team recovered a Chevrolet Aveo model 204 with reg. no. EH 403 PHC, black colour, a property of one Asueiza Geoffrey Odogu "F," of Niger Street, Port Harcourt, which was reported snatched at gunpoint by four armed men on Monday 03/07/2023 at about 7.40pm along Aba Road by CFC.
Investigation is earnestly ongoing to arrest the four-armed men.
3. ARREST OF SUSPECTED CHILD TRAFFICKERS
Operatives attached to the CP Monitoring Unit on Saturday, July 8, 2023, at about 5.00pm, based on the revelation of two suspects earlier arrested in a case of child trafficking, extended the investigation to Omudiaga in Emohua LGA of Rivers State and Ogbaku in Mbaitoli LGA of Imo State where they arrested the duo of Ndubuisi Egbueri 'M, and Ndubuisi Wosa 'M,' at Omudiaga, and one Chioma Anele 'F at Ogbaku. Both Ndubuisi Egbueri and Ndubuisi Wosa confessed to receiving one of the baby , which they later handed over to Hon. Regina Aki 'F at Rukpokwu in Port Harcourt. Hon. Regina Aki was also arrested and admitted to contacting one Favour Amaewhule 'F at Aluu, where the baby was sold in the presence of Michael Charles, the father of the baby.
Subsequently, Favour Amaewhule 'F was arrested and admitted to buying the baby for the sum of N700,000.00, while N350,000.00 was paid to Michael Charles, the father of the baby, and N350,000.00 was paid to Hon. Regina Aki and partners.
However, the baby bought by Favour Amaewhule has been recovered, and the investigation is in top gear with a view to recovering the other babies received by Chioma Anele 'F.'
Seven (7) suspects are currently in custody.
4. ARREST OF A SERIAL CAR THEFT SUSPECT
Operatives attached to the C4I Intelligence Unit on Wednesday, 12/07/2023 at about 2:30am, following the receipt of actionable intelligence from Akpajo Divisional Police Headquarters on the activities of a serial car snatching syndicate, arrested one Ikechukwu Enyinnaya 'M, aged 42yrs, a native of Uzuakoli Community, Bende Local Government, Abia State, who resides at Omuma Igwuruta.
During his interrogation, the suspect confessed to having stolen over Twelve Cars. One ash-coloured Toyota Sienna with Reg. No. FST 146 BH was recovered while efforts are in top gear to arrest other gang members and recover other stolen cars.
5. ARREST OF ARMED ROBBERY SUSPECTS
On Thursday, 18/05/2023, at about 11.00pm, men of the C4i Intelligence Team while on routine patrol, became suspicious of a Toyota Corolla 2005 model with Reg. No. Rivers BNY 741 FV along Ada George Road, Port Harcourt, which aligned with an earlier intelligence the team had received. The team gave a hot chase, and eventually intercepted the vehicle.
Three armed robbers, Cpl. Bright Okay Wamadi 'M' (a police officer), Samuel Charles 'M,' and Michael Nwanchukwu 'M, were arrested while one member of the gang escaped.
In the course of detailed investigation, it was discovered that the four-armed robbers robbed a victim (name withheld) in a bid to snatch his Toyota Corolla 2005 Model with Reg. No. Rivers BNY 741 FV grey colour at gunpoint around Apostolic Church Gateway, Port Harcourt.
The suspects confessed to the crime, while the Police Officer Cpl. Bright Okey has been tried and dismissed upon conclusion of the investigation in line with police internal procedures.
He will be charged to Court with another of his accomplices.
Exhibits recovered from them include one single barrel locally made gun with one live cartridge, a Toyota Corolla Car 2005 model, grey in colour
The Rivers State Commissioner of Police, CP Nwonyi Polycarp Emeka, has called for vigilance and urged residents to take advantage of the Police Control Room numbers in reporting suspicious activities: 08032003514 and 08098880134.
SP GRACE IRINGE-KOKO, anipr
POLICE PUBLIC RELATIONS OFFICER,
RIVERS STATE POLICE COMMAND,
PORT HARCOURT.
13/07/2023