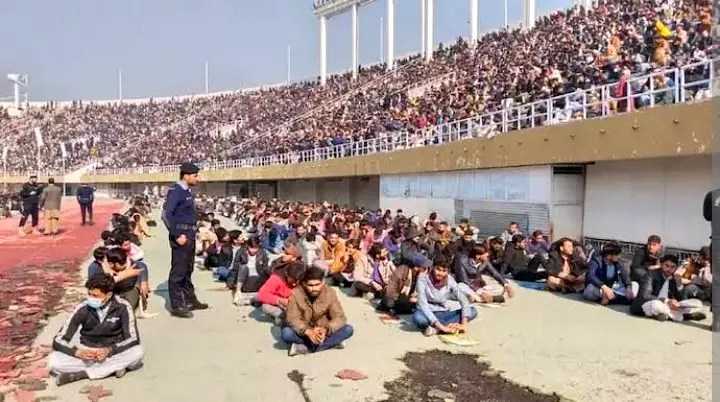 Shocks As Over 30,000 Youths Gathered In A Stadium To Write Police Recruitment Test For 1I67 Job Opening
Pakistani Police on Saturday battled crowed control as over 30,000 youths gathered at Pak stadium, Karachi to write police recruitment test for Islamabad's police force jobs available for only 1167 people.
While stadia are generally flooded with people for sporting events, musical concerts or political gatherings, it was entirely different on the last day of 2022 as youths gathered at the Pakistani national stadium battling for jobs.
According to reports from Al Jazeera, over 31 per cent of Pakistan's youth is unemployed, and 51 per cent are females while 16 per cent are males.
The figures revealed the youth are possessing professional degrees, according to the Pakistan Institute of Development Economics (PIDE).
Reacting to the development on Saturday, PIDE said the massive turnout for the police recruitment shows the high degree of the unemployment in the country.
Sharing the video on Twitter, Al Jazeera said, "It's not football that's filled this stadium in Pakistan but the hope of finding a job. More than 30,000 people turned up to take a written test for Islamabad's police force, where there are only 1,167 positions available."
A video emerged on social media space showing thousands of candidates sitting in the stadium, appearing to be writing exam papers and hoping for recruitment to the Islamabad Police, according to the viral video sourced by Al Jazeera.
PIDE also disclosed that a surprisingly large part of the working-age group is not even part of the labour force.
It said these people are either discouraged workers or have other means of income to support them.
It also stated that despite pronouncements and policy initiatives, the female labour force participation rate (LFPR) remains shockingly low.
Vanguard