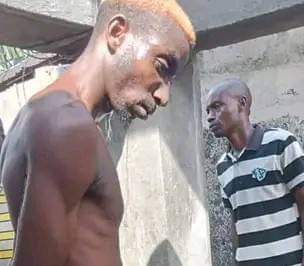 Son Of Eleme Royal Highness, Matchete Mother To Death Over Refusal To Give Him 10K To Buy Illicit Drugs
Mr Owate Bode allegedly killed his mother at Eleme yesterday over her refusal to give him 10,000 naira to buy illicit drug
The young man was identified as Owate Bode allegedly killed his mother with a cutlass in Eleme, Rivers State after she refused to give him ten thousand naira he requested for on Saturday May 13th,2023.
A source close to the family told our correspondent that the suspect had demanded ten thousand naira (N10,000) from the mother which he intend using to purchase illicit drugs but his mother refused.
The suspect was said to have used Cutlass to cut the mother who is a teacher in a Government primary school severally for refusing to give him the money.
We gathered that the suspect was apprehended by the community Youth and handed over to the Police while the deceased corpse has been taken to mortuary.
Reacting to the incident, the spokesperson for the Rivers State Police command, SP Grace Iringe Koko confirmed the incident. SP Koko said the suspect confessed to the crime that he used a  hoe to head the mother on the head before using cutlass.
SP Koko added that the Commissioner of Police, CP Effiong Okon has ordered for the transferred of the suspect from Eleme Police Division to State Criminal Investigation and Intelligence Department (SCIID) for discreet and thorough investigation.
However sources close to the family are afraid that  the suspect who has willingly confessed to the heinous crime  may likely let off the hook.  We also gathered that Mr Owate Bode is the son of His Royal Highness and only child.  The politics that will play out soon will be not to prosecute the case due to successions plan.
Politics of not willing to transfer the dynasty to another household may set in. and the family will backdown on prosecuting him for his crimes