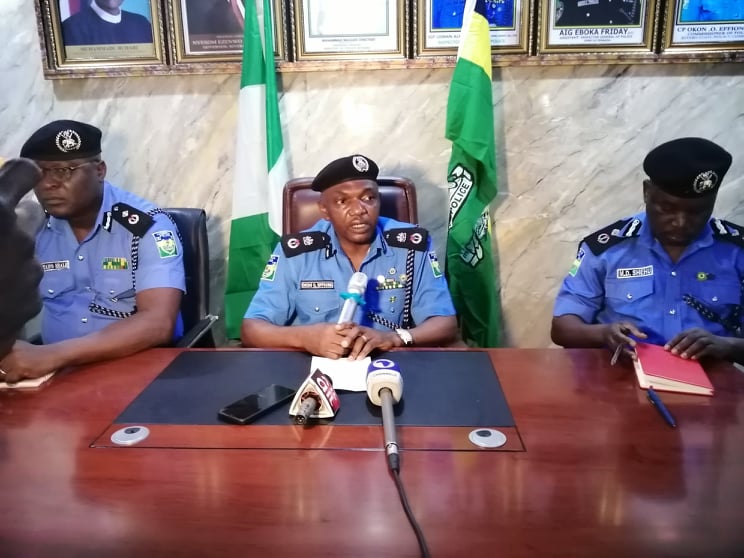 Stop Heating Up The Polity: Police Dismisses Claims Of Not Responding To Attack On Sen. Lee Maeba's House
The Rivers State police command has warned politicians to stop using police as pawns in their games of politicking and play by the rules and not to hit up the peaceful atmosphere enjoyed in the state
The commissioner of Police in Rivers state CP Okon Effiong stated this when members of the Nigerian union of Journalists paid him a courtesy visit in his office.
The CP who was reacting to the claims made by Sen. Lee Maeba debunked insinuation that police did not respond promptly to alleged attack by Hoodlums who invaded the senator house last week Thursday destroying cars and left some persons injured.
He said on receipt of the information he immediately dispatched a team of police officers led by an ACP to the scene for prompt investigation and that upon conclusion of the assessment of the situation, more security details was dispatched to guide and provide protection for the senator and his household
The CP noted that it will be a misinformation if after all that police has done and senator allegedly claims that only one person came to the scene, he said "if we didn't respond  why will the senator send a text message thanking me for the prompt response and even prayed for me". (A copy of the text message was sighted by members of the fourth estate of the realm) present at the question and interaction time.
The CP wondered why the same person who sent him a thank you text will tell the press that only one police officer came to his house where he duly deployed his team of senior police officers immediately handle the situation.
Recall that last week Thursday a disturbing attack on the Senators house in GRA Port Harcourt filtered the air where Hoodlums allegedly numbering over 200 invaded his private residence, destroying over five cars, leaving the brother of the Senator wounded. The Senator who addressed press on that day claimed that neither the Police, DSS or any security agent picked his call and when they did only one policeman was sent to assess the scene of incident.
CP Okon Effiong also clarified that in the matter between Kelechi Worgu and his Senior Brother, the matter was taken to court, but unfortunately he learnt that the parties involved in the matter had settled out of court.
He said the police under his watch will continue to remain apolitical and discharge their duties professionally in order to protect and secure Rivers people and also maintained that he would not be distracted.