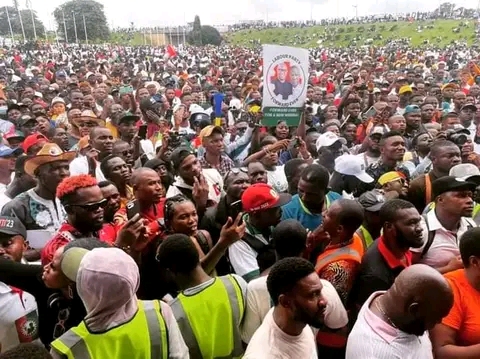 Suspected Thugs Attacks Labour Party Rally In Lekki, Many Injured
Some members of Labour party have bemoaned frequent attacks  by Suspected political thugs loyal to a particular party who are either attacking them or disrupting their rally,
Many were reportedly injured on Saturday when they attacked a Labour Party's rally in the Lakowe area of Lekki, Lagos State according to pictures trending on twitter
The incident caused pandemonium in the area as people were seen scampering for safety and running for their lives. According to SaharaReporters, a victim identified as Solomon Badeh, said the attack was carried out by some suspected political thugs allegedly sponsored by the All Progressives Congress (APC) in the area.
"We were marching close to Lakowe junction when all of a sudden, a bus full of political thugs with all kinds of weapons stopped right in front of us and they started attacking us for no reason.
"It was as if they were waiting for us. Some of them had cutlasses and a majority of them had different objects like sticks and stones and they started attacking us and we all had to run for safety," he told The Independent.
Another victim, Oluwadare Bamidele, the Labour Party organising secretary in the Ibeju-Lekki Local Government Area, claimed that the attacks were planned. He said the attackers were lying in wait inside the bus at a corner around the junction and emerged when they saw them at the junction.
Oluwadare, who was obviously still bleeding from his injuries from the attack, bemoaned the frequent attacks on Labour Party members in Ibeju Lekki by suspected APC-sponsored thugs.