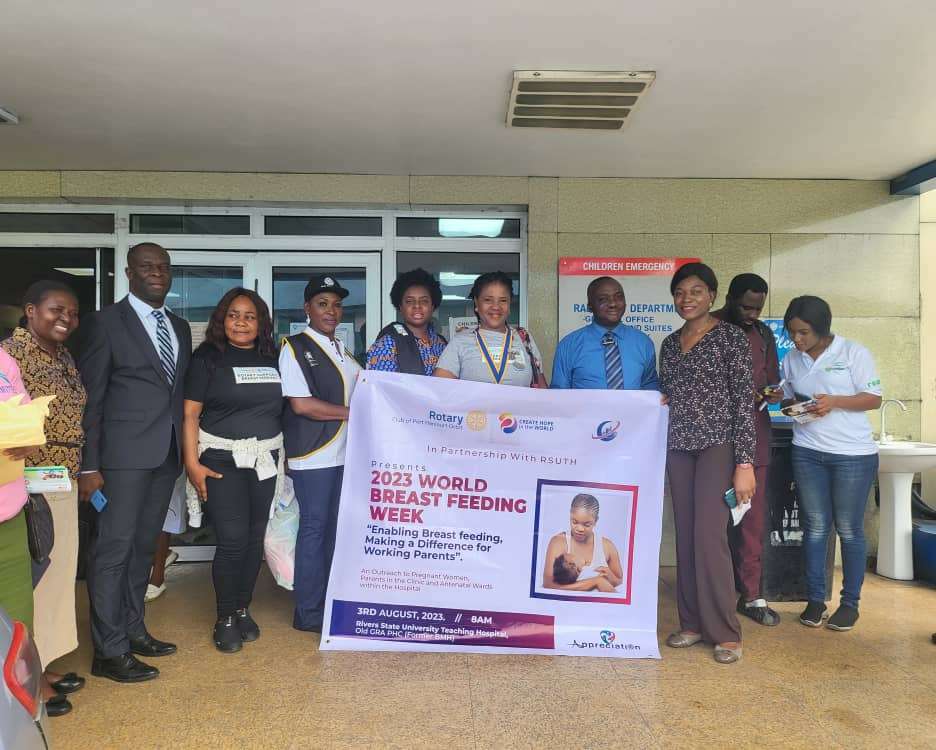 The Only Food Not Affected By Subsidy Removal In Nigeria- Rotary Club Of PHC Orbit Reveals
Over 100 women have benefited from the Diapers and baby wipes distributed by the Rotary club of port Harcourt in commemoration of 2023 world breastfeeding week in port Harcourt
It was a colourful day indeed as Rotary Club of Port Harcourt-Orbit, in partnership with the Rivers State University Teaching Hospital Breastfeeding Committee commemorates the 2023 Annual World Breastfeeding  with week long activities which started with Lectures series for health practitioners on Tuesday 1st August, market sensitization on Wednesday2nd August and Inreach sensitization at the RSUTH.
The World Breastfeeding Week is set aside by the World Health Organisation, every year to encourage breastfeeding and improve the health of babies around the world.
The theme of this year's World Breastfeeding Week, "Enabling Breastfeeding, Making a Difference for Working Parents" is focused on enlightening parents and the public on the benefits of optimal breastfeeding practices, and supporting working parents to breastfeed their babies at home, and in the workplace.
The event which held at the Rivers State University Teaching Hospital, Old GRA, Port Harcourt, was a beauty to behold, as well as relief for many breastfeeding mothers, as Rotarians went round the clinics and wards of the RSUTH in their glowing coloured T-shirts, sensitizing the various hospital publics and also donated baby diapers and wipes to lactating and pregnant women.
At the Children's Clinic of the teaching Hospital, the President of Rotary Club of Port Harcourt, Rtn Anita Ogona., spoke with our correspondent, in her word "This week we are celebrating the world breastfeeding week where we enlighten people all over the world about the benefits of breastfeeding. The theme for this year is "Enabling Breastfeeding, making a difference for working parents". We are here to let you know that everybody can breastfeed; Housewife, working class mother, you can breastfeed your children effectively. Breast milk is the best for your children, removal of Subsidy no dey affect breast milk. Breast milk is natural.
Rotarian Anita encourages breastfeeding mothers to practice exclusive breastfeeding, as she doles out some practical tips to help making breastfeeding easier to for breastfeeding mothers. Outlining the benefits of exclusive breastfeeding, Rtn Anita says babies undergoing exclusive breastfeeding grow healthier, and hardly fall sick.
According to Rotarian Anita, "Rotary is a charitable organization, we render services to humanity, and we encourage women to breastfeed. We will provide the aspects that we know we can by partnering with hospital managements, that is why we are talking to Mothers and would-be mothers on the numerous benefits of exclusive breastfeeding, we also encourage the mothers and educate them on why they should practice exclusive breastfeeding".
Also speaking to mothers at the RSUTH Children clinic, Assistant Governor zone 30 Rtn Preba Babalola explained that Breast feeding Enhances mother and child bonding which is sustainable even in adulthood.
Earlier on, The club Charter president Faith Abassah at the antenatal clinic urged working class women not be deterred in ensuring that their babies gets 6 months exclusive breast milk She said 'studies have shown that breastmilk could be preserved in temperature for 8 hours and inside fridge for 24 hours and as such there is no excuse not to breastfeed their babies
 Explaining the 2023 theme, A staff of RSUTH says Enabling breastfeeding, means fathers are to support breastfeeding  mothers with finance and others, to enable mothers engage in effective breastfeeding,
The high point of the event was the distribution of free Diapers, wipes, multivitamins to mothers at the Children's Clinic, while some mothers were taught on how to express and preserve breast milk for further use.