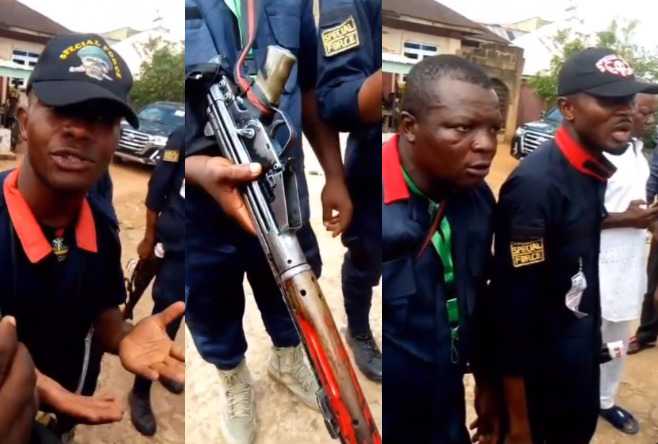 "They Came Here And Collected My Magazine" – NSCDC Officials Accuse Police Officers, Politicians Of Disarming Them And Disrupting Elections In Imo State
Some officials of the Nigeria Security and Civil Defence Corps NSCDC have accused some politicians and police officers of disrupting elections in Obinaocha Nkwerre in Nkwerre LGA of Imo state and disarming them.
The state governorship election took place today November 11.
In a video making the rounds on social media, one of the NSCDC officials alleged that one 'Oyi' and 'Chinasa Nwaneri' sent an Inspector of police popularly known as ''Kill and Bury", to come and destroy the area where the election was being held.
He said his men were able to ''uphold them," and alleged that one Chisom Ojukwu representing Nkwerre was the one who brought in the assailants. The NSCDC commandant who was present, ASC Polycarp said;
''The only problem we have in the country is recruiting illiterates in the system. We are doing a National job, Those people that came here are police. The police are not supposed to work for anybody because this is an election"
One of the NSCDC officials interjected saying