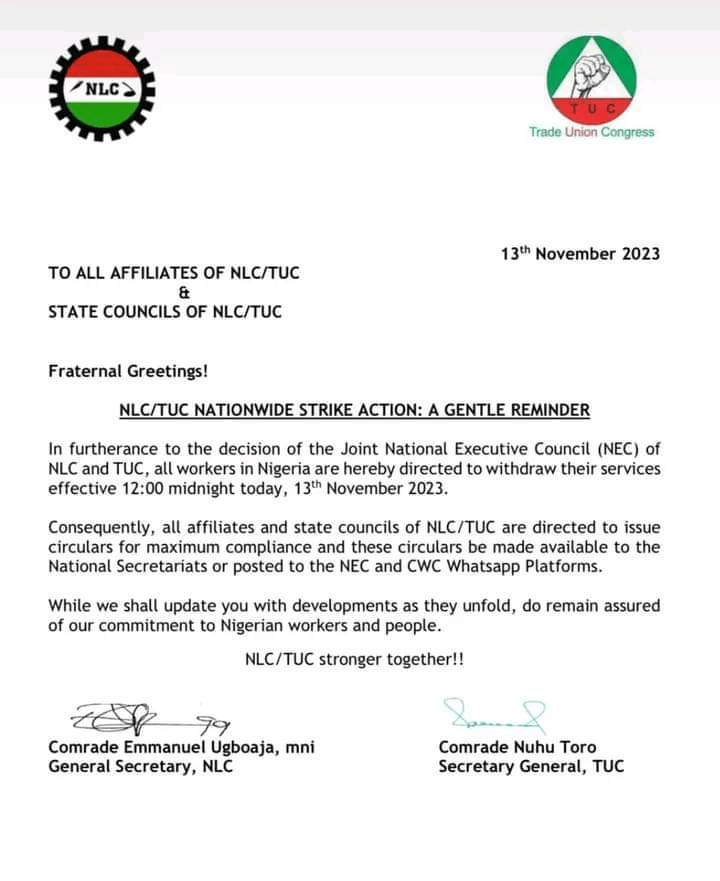 FG Warns Labour To Obey Court Order As NLC/TUC Begins Nationwide Strike
The Academic Staff Union of Universities (ASUU) has directed its members to join the nationwide strike declared by the Nigeria Labour Congress (NLC) and the Trade Union Congress of Nigeria, starting from Monday midnight.
ASUU stated this in a circular to its zonal coordinators and chairpersons, signed by Emmanuel Osodeke, ASUU President
The academic union said, "As an affiliate of NLC, all members of our union are hereby directed to join this action of NLC to protect the interest of Nigerian workers and the leadership of the union. "Zonal coordinators and branch chairpersons should immediately mobilise our members to participate in the action."
Recall that the Nigeria Labour Congress and the Trade Union Congress of Nigeria on Monday ordered their affiliates to withdraw their services nationwide from midnight on November 14, 2023. (today) over the recent assault by the Nigerian police and the Imo State government on the NLC president, Joe Ajaero.
The President of TUC, Festus Osifo, who addressed reporters on Monday, November 13, had said the strike would remain until "government at all levels wake up to their responsibility."
However, the groups in a letter jointly signed by the National Secretary of the NLC, Emmanuel Ugboaja and the Secretary General of the Trade Union Congress, Nuhu Toro to the affiliates demanded for compliance.
It directed the affiliates which include: the Academic Staff Union of Universities, National Union of Electricity Employees, Nigeria Union of Teachers, Judiciary Staff Union of Nigeria, Academic Staff Union of Polytechnics among others to issue circulars for maximum compliance.
The labour unions added that the circulars be made available to the National Secretariats or posted to the NEC and WC WhatsApp platforms.
Recall how operatives of the Nigerian Police Force arrested Ajaero while organising a rally to protest against stalled wage payments for workers in Imo state. It was also reported that the police denied arresting Joe Ajaero during a protest in Imo State but claimed it gave protective custody.
However the Nigerian government has cautioned the organised labour – comprising the Nigeria Labour Congress (NUC) and the Trade Union Congress of Nigeria (TUC), to shelve its planned industrial action beginning from Monday midnight, saying there is a subsisting court order, which restrained them from embarking on strike.
The Attorney-General of the Federation and Minister of Justice, Lateef Fagbemi, SAN, said this in a statement on Monday adding that "the Labour unions must obey the subsisting court order."
The AGF reminded the NLC and the TUC that there was a subsisting court order stopping the unions and their affiliates from embarking on the strike.
The interim order was granted on November 10 by the President of the National Industrial Court of Nigeria, Justice B. B. Kanyip.