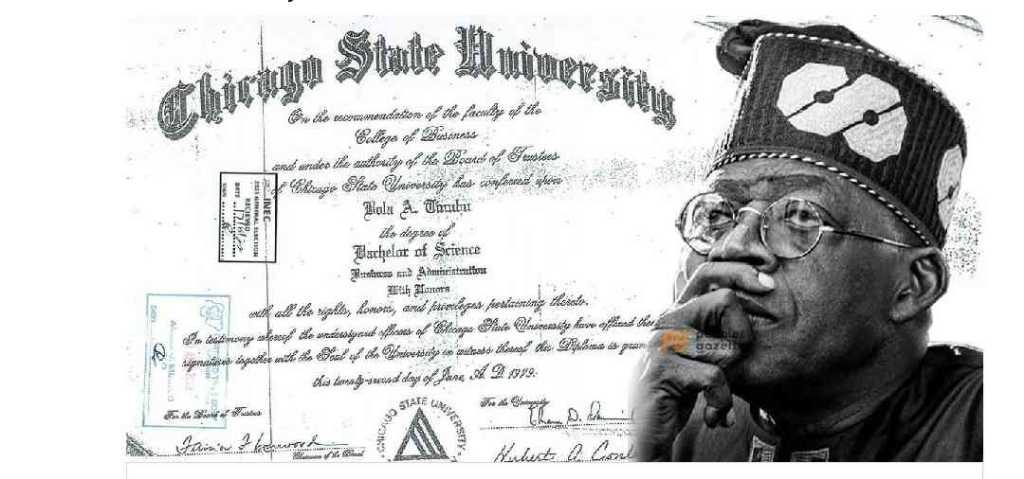 Tinubu's Case Embarrasses Us More Than Buhari's Certificate Scandal – Northern APC Chieftain
A chieftain of the All Progressives Congress (APC) has said that the party was not embarrassed with former President Muhammadu Buhari's certificate scandals as it is with Chicago State University certificate scandal of President Bola Ahmed Tinubu. The party chieftain from the north, who spoke in anonymity to Sunday Telegraph, also said the obsession of the APC National Chairman, Abdullahi Ganduje, against the Presidential candidate of the New Nigeria Peoples Party (NNPP), Senator Rabiu Musa Kwankwaso and the party might likely destroy him and APC.
According to him, he (Ganduje) should restrain himself and take cue with what happened to the former Edo State Governor, Senator Adams Oshiomhole. Oshiomhole, according to him, waged war against the governor of Edo State, Godwin Obaseki and that war consumed him that he was sacked as National Chairman. The Chieftain said:  "Ganduje should restrain himself on the way and manner he attacks Kwakwanso and the NNPP. I don't think that is the reason he was made the APC National Chairman. "If he is not careful, he would have the experience of Senator Oshiomhole, who was sacked because of his obsession against Obaseki, the governor of Edo State."
Speaking on the Chicago State University scandal, the APC Chieftain said it is an embarrassment to the party, which claim 40 mil- lion membership. He said: "I don't know how anybody can sincerely defend the issue that our President, Bola Ahmed Tinubu, forged his educational certificates.  Tinubu Committed Forgery, Let's Stop Beating Around…  He added; "We had a similar case with former President Muhammadu Buhari but it was not as bad as this because his was that he could not find the certificates as he claimed that they were with the Military. "Here, the issue at hand is total forgery of certificates of schools claimed by our President. "Even if the Supreme Court did not rule against us, it would not in any way erase from the minds of Nigerians that the certificate(s) of our President were forged. "For a party, which claim membership of 40 million persons to field a candidate with controversial credentials, speaks volume of us.
He concluded;  "I will sincerely appeal to the national leadership of the party to sincerely and consciously approach this issue and see how its image can be redeemed." The issue of President Tinubu's Chicago State University certificate has been that of controversy and concerns since the State University released the documents.
The opposition Peoples Democratic Party (PDP) and the ruling party, (APC) have been on loggerheads on the authenticity of the certificate submitted by President Tinubu to the electoral body, the Independent National Electoral Commission (INEC) and the ones released by CSU. Also, some other Nigerians have joined also to speak for or against the authenticity of the said certificates.
Source: Telegraph