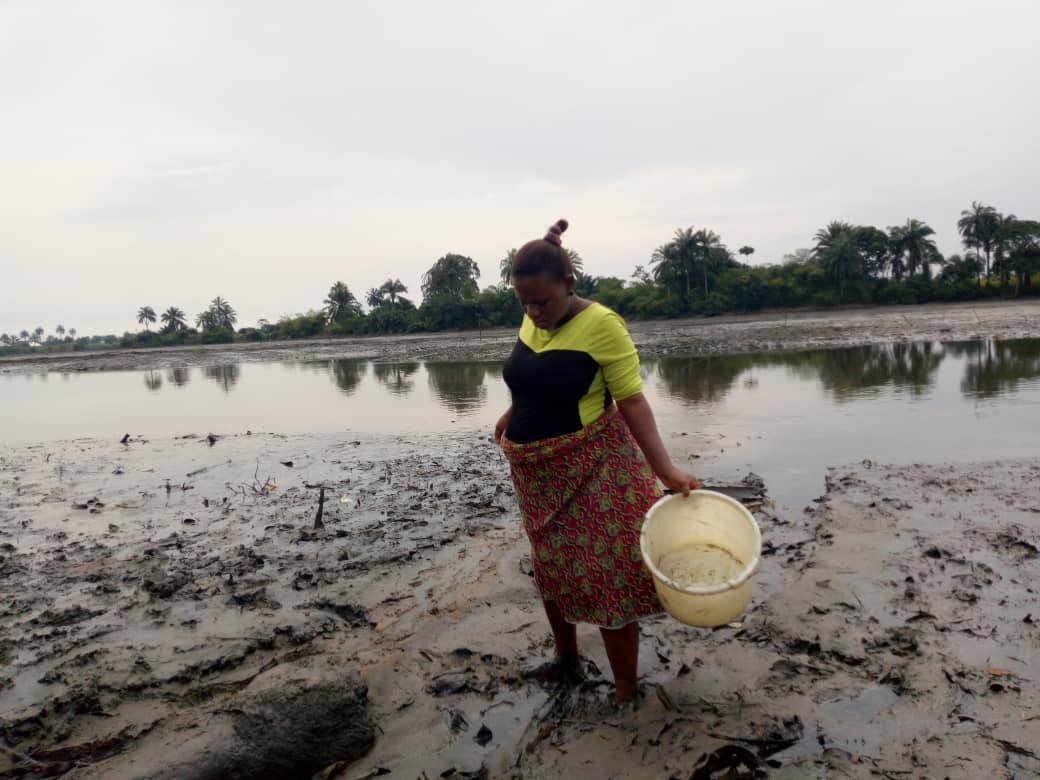 Unbated Oil Spills In Ogoniland: 3 Out Of Every 10 Women Loose Pregnancies To Miscarriages In Bori,-Special Reports
In the past, when rivers and lands in Goi, K-Dere and Bodo communities in Gokana Local Government Area of Rivers State were not polluted by oil spill, the environment was filled with noticeable aquatic splendor as fish, periwinkles and other sea animals were alive and heathy in the rivers.
Then pregnant women and children in these Communities enjoyed nutritious delicacies that ensured they remained healthy.
The women then could place hot water on the fire and rush to a nearby muddy river to pick periwinkle to prepare delicious meals. Periwinkle is a source of rich animal proteins, loaded with amino acid and omega -3 fatty acid that nourishes the body.
However, the story is different today, as the continued oil spill in the aforesaid areas, has not only contaminated the rivers but has also destroyed the flora and fauna that help to sustain a healthy body system.
The oil spill activities which began about four decades ago and has continued unabated is also releasing toxic chemicals into the air thereby; affecting the health of the people especially, pregnant women and children.
While on a tour to these heavily polluted communities in Ogoniland, in Rivers South- East Senatorial District, The reporter saw some pregnant women who could not afford sea foods as required to boost their body system, searching for periwinkle, crabs in the polluted oily water and sadly, after searching for hours, what they caught was less than three cups of tiny periwinkle perhaps; due to the dense pollution in the area. other sea foods like water snail, shrimps, prawns, crayfish were not seen.
Despite the obvious health implications of consuming polluted sea foods, the people still eat periwinkle, crabs from the polluted water possibly; due to hunger and lack of alternatives.
The areas were endowed with rich natural resources in oil and gas but findings show that the people are ravaged by poverty, paucity development, scarcity in the midst of plenty, abandonment, diseases, and even death. While the people wallow in dereliction, the multinational oil companies and government who benefit majorly from the natural assets pay lips service to their pathetic plights.
The people are predominantly farmers, hunters, palm wine tappers and fishermen and women but they have lost all their sources of lively hood to oil devastation.
One of the pregnant women, Martha Kpakoldii, 30, whom The reporter met at a creek in Goi community searching for periwinkle; when asked if she knows the health impact of eating periwinkle from polluted water, she said, " it is better for them to die from what they eat than to die of hunger".
In Goi community, all the indigenes have relocated to the neighboring villages due to the heavy impact of the spill. There are no trees there, the bushes do not grow beyond grass level, presently, the only visible building in the area is an empty community hall. Animals both domestic, wild and aquatic no longer permeate the area due to the profuse spill.
Meanwhile, findings on environmental pollution shows that steady consumption of polluted water and vegetables put the vulnerable group (Pregnant women) at great risk of maternal malnutrition and sickness, which potentially increases infant mortality risks.
Pregnant women are the most vulnerable population; the effects of the spill on their health are life- threatening. High percentages of this group are exposed to harmful chemicals found in crude. They have continued to ingest poisoned food, contaminated water and vegetables in the area because there are no alternatives.
Reeling out her experience, Kpakoldii said, " . We are in a worse situation, before now, pregnant women do not need to stress themselves to get periwinkle. While growing up, I saw my parents sometimes, put water on the fire, rush to a near-by river behind our backyard, get periwinkle and within few minutes, food would be ready but currently, we no longer get such. There is no periwinkle anymore, I walked for an hour to this riverside to search for periwinkle because I do not have money to buy from the market and after searching for over one hour, what I gathered is less than one cup"
She claimed that the exploration activities have forced several pregnant women into miscarriages. Kpakoldii whose pregnancy was 24 weeks old as at the time she spoke with The reporter disclosed that two women who conceived within the same period with her lost their babies in the process.
Also, a traditional ruler in Goi community who is currently living in a neighboring village, Chief Eric Dooli, alleged that 75 percent of miscarriages in Gokana Local Council was as a result of oil pollution.
He said, "Our challenge is that several reporters that have come here have not reported the cardinal issues that are affecting the inhabitants of my Community. Goi community in Gokana Local Government Area of Rivers State have been so polluted to the fact that you cannot find birds, animals in the environment. Today, there is nowhere to go and fish because the entire mangrove where the fishes' live have been devastated by oil. We do not have bushes anymore where animals stay to reproduce their young ones"
"About 75 percent of miscarriages in our area in Gokana is as a result of pollution and this happens as a result of eating polluted food, fish and drinking contaminated water. As a result of this, we are having high mortality rate in terms of our reproductive circle.
Oil spill and its effects on women
Persistent oil spill according to health experts poses significant health challenges to pregnant women and children. The chemicals from the crude can influence the development of the embryo and fetus. According to the World Health Organization, (WHO), the embryo, fetus or child is particularly sensitive to even one minute concentrations of toxic chemicals. Research also shows that crude oil and its components are known teratogens and causes birth defects, changes in fetal development and decreased fetal survival.
Also, the United Nations Environment Programme (UNEP) after its assessment of Ogoniland in August, 2011 which it submitted to former President Goodluck Jonathan at Aso rock, Presidential villa, warned that the inhalation of the petroleum hydrocarbons , eating contaminated fish or drinking the polluted water would affect the health of the people.
A visit to about four hospitals within the areas in focus, Bodo and K-Dere, revealed increased miscarriages , maternal and child mortality whereas other developed countries are recording significant reduction in maternal mortality. There are however, no human beings in Goi community.
At the Rivers State Zonal Hospital Management Board, Bori ,for instance; information obtained showed that out of every 10 pregnancies, there is a record of three miscarriages.
While at the Bodo General Hospital, available records showed that average of eight miscarriages are recorded monthly while death rates stands between 14 to 15 persons per month. Reports from other Medical Centers in Kpor, Terabor, Kpete , and K-Dere are also not different.
K-Dere is a home of about 64 oil wells out of the about 96 littered all over Ogoniland. Some of the key investigations in the assessment of Ogoniland carried about by UNEP were carried out in K-Dere.
About ten pregnant women who spoke with our reporter at different hospitals, health centres, homes, markets and community halls visited, said, they still drink from well water, borehole, and the contaminated water, lacked fruits and vegetables. They lamented that since their lands have been destroyed and source of livelihood mired, they no longer have money to buy such items from the market; hence their inevitable choices.
It was also gathered that most of the women use fertilizer on their crops due to the damage in the soil and experts say, such practice is not too good for health.
The women disclosed that a lot of pregnant women lose their babies as a result of stress and lack to nutritious foods. Meanwhile, some of the pregnant women sighted at the various hospitals had dry skin and rashes.
Sadly, since these incidents, there is no comprehensive health audit and as a result; the health status of the people keeps deteriorating daily. There is also no medical support to assist the women and families that are heavily impacted by the spill.
One of the resident, Mrs. Bapakaye Young-Harry, the Head of Eastern Zone, Nigerian Maritime Administration and safety Agency (NIMASA) disclosed that she gave birth to a baby diagnosed with a hole in the heart and according to her, the doctor attributed the cause to high pollution in the environment but fortunately, the baby has been treated.
Speaking on the experiences of pregnant women, the Assistant Director of Nursing Services, General Hospital, Bodo, Nadum Blessing, noted that fruits, vegetables, sea foods and potable water that keep pregnant women healthy are rarely seen in the area.
She said, "In this areas, you don't see fruits, vegetables, periwinkle, potable water and fish anymore. The ones available are also very costly, a cup of periwinkle is N400 because the women cannot get it from their River again but we still preach to take such things. We continue to tell them the importance of ante-natal care"
"These things are necessary to build the body system of pregnant women, so when you do not eat these things to have sufficient blood, it can cause anemia and it may possibly lead to miscarriage because the baby depends on the mother, it continues to drain from the mother and at a point when the mother is not eating enough of these things, she becomes anemic"
Aside not eating sufficient fruits, vegetables and foods, The reporter observed that the women prefer to deliver babies in churches, homes, local birth attendants than in the hospital due to lack of money to pay the hospital bills which on its part increases the level of maternal mortality.
While prying the areas, the odour from the crude still hit very harsh which indicated that the people inhale these fumes daily. The UNEP report noted that the crude contains benzene, butane and according to the International Agency for Research on Cancer (IARC), benzene is a group 1 carcinogen and chronic inhalation of one minute levels of benzene causes leukemia and other types of cancers. More so, exposure to spill can result to irregular heartbeats, convulsion , labored breathing, chemical pneumonia, dizziness, loss of coordination, nausea, coma among others.
Some indigenes of Ogoni disclosed that deaths are mostly the common ceremony in the area. According to them, every weekend, most families in the area conduct burial for a relative.
Already, skin diseases, cough, malaria, asthma, heart failure, are common in the area. Some children were seen with disfigured foot and hence could not wear foot wears to school even while the sun scorches. Out of curiosity, The Guardian reporter requested the taxi driver to stop and inquired from the children why they walked to school without sandals, the feedback was " Our parents cannot afford the cost of making special sandals for us due to the nature of our foot" .
A Consultant Obstetrician and Gynecologists' and Executive Director, Mother and Baby Global Foundation, Dr. Eli Sukarime, said, there is a link between oil spillage, miscarriage and some deformities in children.
According to him "There is a relationship between Oil spillage and pollution and pregnancy. First, oil pollution can prevent women from getting pregnant, second, it can also cause miscarriages. Miscarriages in our content in Nigeria is women that are below 28 weeks, that is seven months but in World Health Organisation, it is women less than 24 weeks that is six months.
"Gaseous pollution can contain some gasses such as carbon dioxide and those carbon dioxides can be noxious agents to the uterus to the developing baby and it can cause the woman to have miscarriage, then as pregnancy advances, it can also cause some problems to the baby which is called, congenital anomaly. The heart can have problem, the skeletal development of the baby and when it happens like that, the body will reject the developing baby because the baby becomes like a foreign organism to the woman and when it happens, it can lead to miscarriages"
Similarly, A Consultant Pediatrician at the Braithwaite Specialist Memorial Hospital, Port Harcourt. Dr. Appollus Josiah, said ,if the pregnant woman consumes foods, water that is contaminated by the oil pollution, it can cause anything even miscarriage.
His word, "The chemicals used for this exploration activities when it get into the soil and do not go out , it affects the plant and when you eat those plants directly to the system. it is possible if a pregnant woman consumes foods, water that is contaminated by the oil pollution, it can cause miscarriage"
By Roberts Queeneth