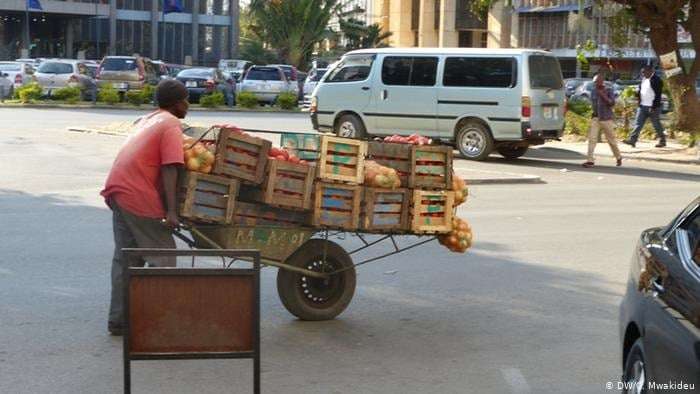 Woman In Tears As Wheel Barrow Pusher Disappears With Her Food Stuff In Abuja Market
A cruel wheelbarrow pusher reportedly ran away with foodstuffs worth thousands of naira's at a market in Abuja yesterday, leaving the owner in tears.
The victim, identified as Mrs. Rebecca Gbaje, had visited the Kwaita village market in Kwali Area Council of the Federal Capital Territory (FCT) on Thursday, and bought some foodstuffs to take home.
Having loaded the foodstuffs in a wheelbarrow, the middle-aged housewife reportedly asked the pusher to stop by the roadside and wait a little so she can quickly buy fish. Unfortunately for her, the young man ran away with the goods.
According to Daily Trust, the woman burst into tears as some customers and traders gathered to sympathize with her.
A journalist at the scene reported that some sympathizers walked around the market in search of the barrow pusher but could not trace him.
The woman, while narrating to sympathizers who stood to console her amid tears, said she bought the food items that comprised of Mudus of rice, beans, maize and other ingredients and engaged the barrow pusher to help her take the items to the roadside.
After buying the fish, I turned back but could not see the barrow pusher again," Gbaje reportedly said.
She explained to the people that she came from Fogbe village to Kwaita market to buy the foodstuffs, amounting to N23,300.
However, some traders at the market contributed money for her to buy some other foodstuffs as she refused to stop crying.