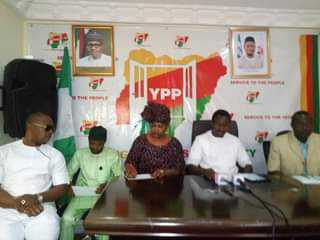 YPP Threatens To Reclaim Mandate From Sen. Ifeanyi Ubah For Defecting To APC
The Young People's Party (YPP) has stated that plans by the ruling All Progressives Congress (APC) to opt for a one-party state is not healthy for the growth of democracy in Nigeria.
The party, while reacting to the defection of Senator Ifeanyi Ubah to the ruling APC, faulted his claim of irreconcilable differences within the YPP as the reason for his defection.
YPP, in a statement issued by National Publicity Secretary Comrade Egbeola Wale Martins, advised Ubah not to cry wolf where there is none.
Part of the statement read: "Reality and facts do not magically cease to exist just because the facts offend us; hence, there is no need de-marketing our party at the expense of millions of our followers.
"If for anything, the leadership of our great party has been consistent in supporting not just Senator Ifeanyi Ubah but all candidates who ran and won elections on our platform and will continue to do so provided they do not waver in keeping faith with the party."
It condemned what it described as APC's "penchant for scavenging political parties in an attempt to make Nigeria a one-party state."
YPP advised President Bola Ahmed Tinubu-led APC to concentrate more on solving the nation's myriad challenges rather than the desperate suffocation of opposition political parties.
The party warned Senator Ubah of the legal implications of his action and declared its readiness "to explore all available options within the ambit of the law."