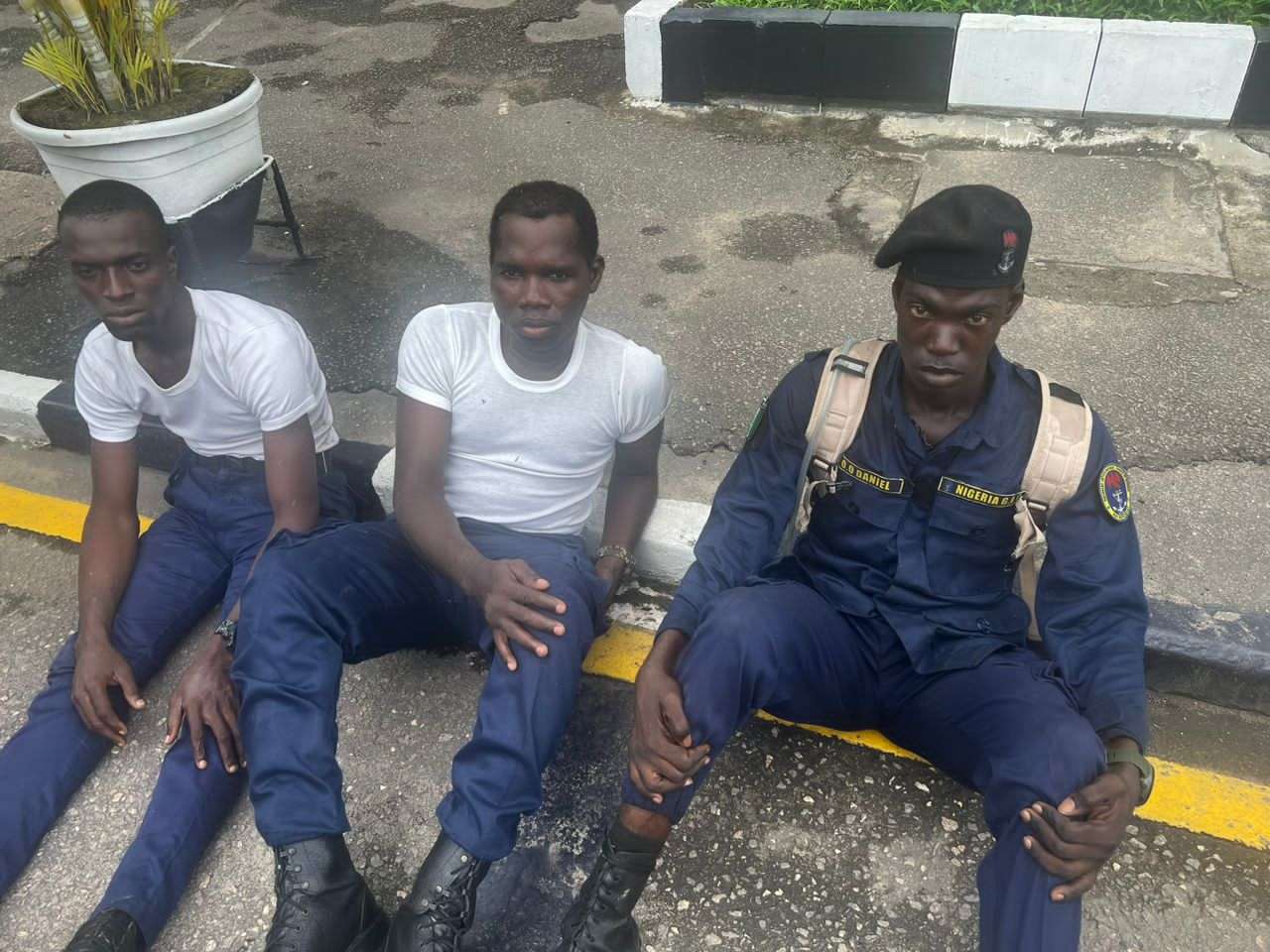 3 Suspects Arrested As Navy Foils Swindlers Plans To Scam Nigerians On Non Existent Employment
The  Nigerian Navy has foiled impostors plan to swindle the general public on imaginary Jobs in LAGOS STATE
In a significant development to prevent swindling the general public, the Nigerian Navy Ship (NNS) BEECROFT patrol team apprehended 3 impostors within the vicinity of Isolo, Lagos State.
According to CO NNS Beecroft, Commodore Kolawole Oguntuga The operation was conducted on 1 September 2023, was initiated in response to alarming reports of fraudulent individuals featuring the image of Chief of the Naval Staff Vice Admiral EI Ogalla in printed posters being circulated. The impostors sought to deceive the public into believing there exists a false collaboration between an illegal security outfit, tagged Gallantry Intelligence Corps of Nigeria and the Nigerian Navy.
The arrested suspects identified as Oladele Opeyemi Daniel (23),
Eriwole Ogunlana (24) and
Mubarak Mayegun (24), are in custody and has been  Handed over to State Criminal Investigation Department Panti  for proper and  appropriate agency for in-depth investigation and prosecution.
The Nigerian Navy appeals to the public to be mindful of unscrupulous elements, who want to inflict unnecessary hardship by using unpleasant means to lure innocent youths to commit resources for illegitimate employment.
The Nigerian Navy Under the leadership of Vice Admiral EI Ogalla, reaffirms its commitment to thwarting all forms of illegality and remains resolute in providing conducive employment for law abiding citizens to go about their business as well as ensuring safety and security of the public, which is essential for the economic prosperity of our nation.
The Navy also urge citizens to remain vigilant and report suspicious activities promptly, as this is crucial in preserving integrity of our defence forces and safeguarding the public from potential scams and fraudulent activities.