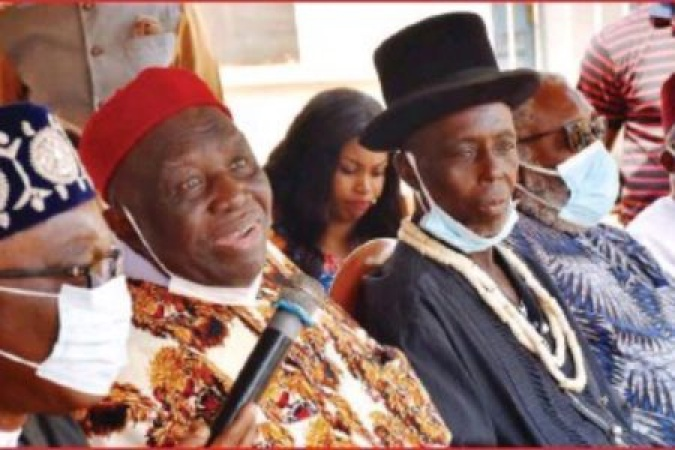 Constitutional Crisis Hits Ohanaeze Ndigbo Worldwide As President And Deputy Are Dead, Leaving Leadership Vaccum
Double tragedy has befallen apex Igbo organisation, Ohanaeze, with both the President General Worldwide and his Deputy dying not too far apart and leaving a leadership vacuum as no Constitutional provision made for successor in the organisation.
Unknown to most people, the body of erstwhile Deputy President General Worldwide, Chief Joel Kroham, was still in the mortuary when the President General Worldwide, Prof. George Obiozor, died on Boxing Day (December 26) at the age of 80. News Express learnt that Chief Joel Kroham, who hailed from Upatabo in Rivers State, has yet to be buried since he died about three months ago, aged 74 years.AN Ohanaeze source told News Express yesterday, Thursday, December 29: "The terrible thing is that the president and his deputy are in the mortuary, thereby leaving a leadership vacuum as the Ohanaeze Constitution does not make any provision for the president or any national officer dying in office because it had never happened since 1976."
The source disclosed that a review of the constitution was proposed by some members during an Ohanaeze meeting at its Secretariat in Enugu but they were over-ruled. "Now a very big lacuna has occurred in Ohanaeze with the death of Prof. Obiozor and Chief Kroham," the source lamented.
When Contacted, Secretary to Ohanaeze Worldwide, Chief Goddy Uwazurike, said there was no cause for alarm.
"Yes, there is a vacuum but Ohanaeze will continue to operate until a new President General is elected (from Imo State). So there is no cause for alarm," he said.
Uwazurike disclosed that the Vice Presidents and the Secretary are expected to take charge of Ohanaeze in the interim, adding: "It is expected that Imeobi will be summoned by a VP. All the governors and ministers are automatically involved."
Source: News Express