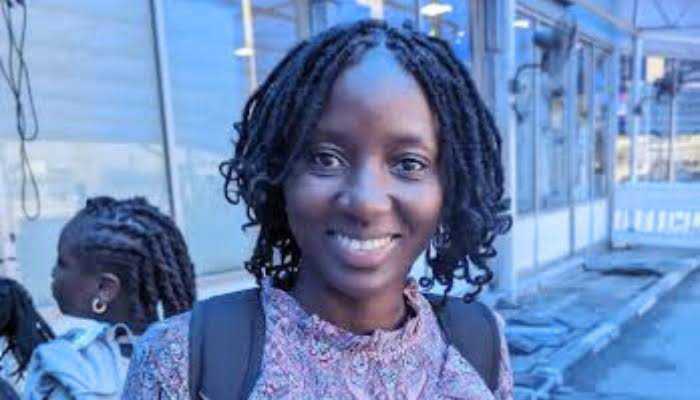 Family In Shocks Over Death Of UK Student In Egypt Air, Appeals To FG To Investigate
In search of improved and better quality of education in the United Kingdom, a Nigerian lady identified as Remilekun Toyosi Meshioye as been found dead onboard Egypt Air.
Remilekun was expected to connect to Heathrow Airport on Tuesday from Nigeria but reported dead aboard Egypt Air flight MS 876, on Monday.
Her untimely death was seen as disrespectful as her family has slammed the airline and is now calling on the Federal Government of Nigeria to come to their rescue over the matter by the Egyptian Authorities.
The visa details of the deceased indicated that she has a student work permit and was scheduled to get to London Heathrow from Cairo on September 5th.
In the course of her transit on Egypt Air flight MS 777, the 43 year old had passed the night in Egypt when she arrived on Monday night but she met her untimely death hence her body was deposited in a morgue in Cairo.
Upon her death, her family were not informed for days until the Consular office in Cairo later informed them of the passing away later on but the family has imagined she had arrived the United Kingdom days earlier.
One of her relatives who lives in Leeds in the United Kingdom, Olufunmilola Olaniyi-Alabi, spoke with a newsman on WhatsApp about the incident.
She expressed shock at the inability of the airline to contact the family of a passenger who duly chose to patronize the airline and joyfully decided to travel with them to her destination with the belief that she will receive the best treatment.
In her words,
"We called Egypt Air customer care and all other contact phone details on their website but no response all through Wednesday and when the phone was picked they quickly cut it. It was only once that a man picked the call that we put through to Egypt Air Regional Office in London and he said the London office is not aware of what happened and they don't have information to share with us.
"So, we were left with no choice but to report to the UK Police Department, on Wednesday, and they later confirmed to us that our sister was not in the UK they advised us to contact Cairo or Lagos airports. We contacted the agent who sold the ticket to her and the agent sent us proof that she did not board the plane going to Heathrow from Cairo."
The family of the deceased are yet to come to terms with the news of the death of their daughter and family spokesperson concluded thus afterwards:
"Thank you for contacting us. We are shocked and greatly displeased with the attitude of Egypt Air. The Nigerian government must not allow a citizen of our country be treated this way by any nation and be allowed to go like that. We demand justice and investigation from the Nigeria authorities."