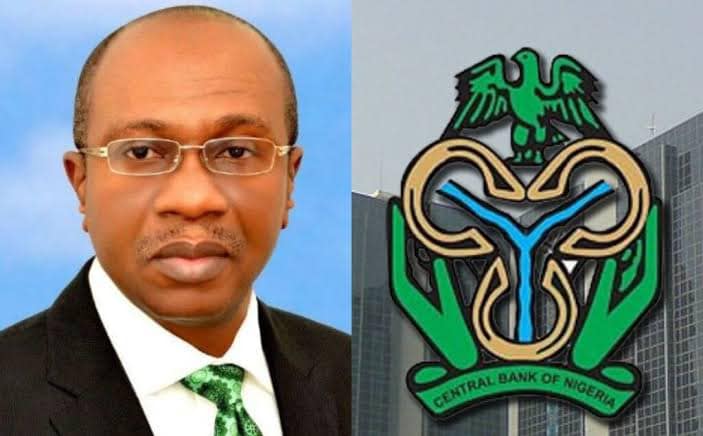 Funding Terrorism Charges: CBN Gov. Emefiele Expected To Resign To Avoid Arrest
Godwin Emefiele, governor of Central Bank of Nigeria (CBN), who has been accused of funding terrorism, will be allowed safe entry into the country this week but it could be so he can be made to resign after being confronted with evidence of the allegations against him, has learnt.
Emefiele was part of President Muhammadu Buhari's entourage to the US-Africa Leaders' Summit in Washington in December 2022, but Buhari returned to Abuja a day after the summit. The CBN governor delayed his return to Nigeria after it emerged that the Department of State Services (DSS) had applied to a court for permission to arrest and keep him for a prolonged period.
A very well-connected government source said "I believe there is a deal that will allow the governor to return this week without arrest, but he will be presented with evidence of the allegations against him, and thereafter it is expected he will resign."
For senior government officials, Emefiele's case divides opinion sharply. Our reporters gathered that there are clearly those in government and security who want Emefiele held on arrival and prosecuted, but a soft landing may now be presented to the once-powerful governor of the apex bank.
If and when Emefiele resigns, the way will be cleared for the appointment of a replacement, and already some high up in government say it will be inappropriate for the government to name a substantive CBN governor with only four months left in the life of the administration.
"A responsible government will go ahead to clean up the mess and appoint an acting governor, given that the government has only four months in power,"
Emefiele, who has been governor since 2014, is the first person to serve two terms as the head of Nigeria's apex bank in nearly 20 years. He was first appointed by then-President Goodluck Jonathan in June 2014, after Sarah Alade served out the term of the Sanusi Lamido Sanusi.
Almost a month ago, there were reports in the local media that the DSS had filed an application with reference number FHC/Abj/CS/2255/2022 and in which it sought permission from the Federal High Court in Abuja to arrest and detain Emefiele.
The secret police said its preliminary investigation revealed various acts of terrorism financing and fraudulent activities perpetrated by Emefiele. It also accused him of being involved in economic crimes of national security dimension.
But a Federal High Court in Maitama, Abuja, recently issued an order restraining the DSS from arresting, detaining, or questioning Emefiele.
On Thursday last week, there were various reports online that the apex bank boss had returned to Nigeria, but the reports turned out to be false.
The DSS, in a recent press release by its spokesman, Peter Afunanya, maintained that it remained focused and unbiased and would not succumb to propaganda, intimidation, or the desperation of hirelings to undermine it.
Afunanya said: "As such, the Service will continue to disseminate actionable intelligence to the relevant authorities devoid of any sentiment. While professionally discharging its mandate the DSS pledges to remain focused and unbiased. It will also not give room to the use of falsehood and deceit to misdirect public understanding and perceptions of issues of national importance.
"It will also not give room to the use of falsehood and deceit to misdirect public understanding and perceptions of issues of national importance. The Service warned those on a wild goose chase to be mindful of their actions. Similarly, it urges members of the public to disregard the vituperations and rantings of misguided elements and not allow themselves to be used as instruments of destabilization."
Source: BusinessDay