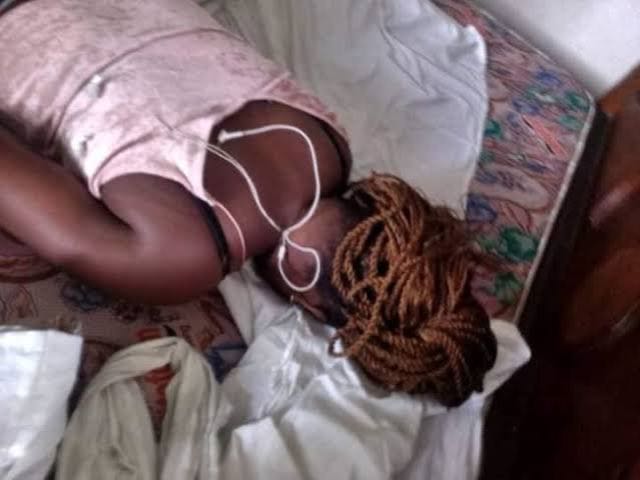 Lady Found Dead Inside Hotel Room Few Hours After Checking With Lover
The Lagos state police command have launched investigation into circumstances surrounding the death of a young lady found Dead in a Lagos Hotel.
The incident happened on Wednesday July 12, 2023 at Eagle Rock Garden and Suite, located at 102 Yale Okeowo Street, off Community Road in Ago Palace, Lagos.
A young man was said to have checked into the hotel with the lady on the fateful day, believed to be in her late twenties. After a few minutes, he left the lady behind in the room.
The young man, who goes by the name Kelvin as stated on the receipt provided by the hotel receptionist, is now the prime suspect in the crime.
The discovery was made on Thursday morning when the lifeless body of the young lady was found. A staff member of the hotel, speaking on condition of anonymity, recounted the sequence of events to newsmen
She said; "A young man arrived at the hotel around 11 p.m. on Wednesday with his girlfriend, who appeared to be around 28 years old. He made a transfer payment of N9,000 for the lodging and entered the room with her. Shortly after, he came downstairs, inquiring about the closing time of the hotel gate as he planned to visit a club," the staff member stated. "He assured us that he would return soon because his girlfriend was still inside the room. The following morning, despite numerous attempts to gain access by knocking on the door, there was no response.
"Peering through the window, we were alarmed to see a leg on the floor. We immediately alerted the manager, who subsequently contacted the Ago Palace Division of the police. Upon breaking open the door, a horrifying sight awaited us: a lifeless, unclothed body of a lady lying on the floor."
The incident came to the attention of journalists when concerned individuals in the vicinity raised the alarm, drawing attention to the tragic event.
Upon arrival at the Eagle Rock Garden and Suite, the hotel where the tragic incident occurred, it was noted that the establishment was still in operation. However, there was a sparse presence of customers at the time of this report.
When contacted via phone call, the Lagos State Public Relations Officer, SP Benjamin Hundeyin, confirmed his awareness of the incident. He stated, "I am aware of the incident, and an investigation is currently underway. The case has been transferred to the State Criminal Investigation Department, Panti. "Upon the arrival of the Ago Palace Police Division at the hotel, they discovered the lifeless body of a woman lying on the floor. It was observed that an inhaler used for catarrh was in her nose."