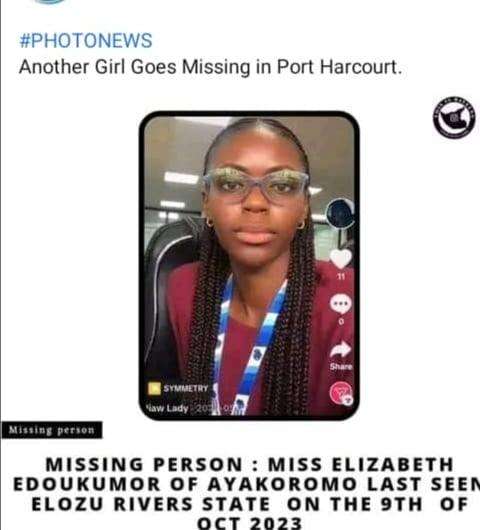 Missing Girl: Rivers Anti-kidnapping Unit Arrest Bolt Driver Hours After Submitting Himself To Police
The Anti kidnapping unit of the Rivers State Police Command located at Miniokoro, Portharcourt on Friday night, October 27,2023 arrested Mr Kelechi Uzor a bolt driver who took Elizabeth Edoukumor, a now missing person to Harmony estate at Eliozu, Portharcourt on October 9th,October,2023 where she was last seen, we learnt.
The arrest of the bolt driver, Mr Uzor by Anti-kidnapping comes barely forty-eight hours after he voluntarily reported himself to the Okporo Police station.
A Human Rights Activist, Prince Wiro who is also the National Coordinator of Centre for Basic Rights Protection And Accountability Campaign who led Mr Uzor to voluntarily submit himself to Okporo Police Division to aid Police investigation after he(bolt driver) has repeatedly rejected the missing girl's family to meet them privately, confirmed to our reporter that Mr Uzor was arrested by the Anti-kidnapping unit on Friday night at the Okporo Police Division.
Mr Wiro said personnel of the Anti-kidnapping unit after a brief talk with the Divisional Police Officer(DPO) of Okporo Police station, handcuffed Mr. Uzor and whisked him to the Anti-kidnapping unit .
Recall that Mr Uzor had in an earlier interview with journalists stated that he only took the missing girl, Elizabeth from Eastern by-pass to Harmony estate dropped her and left, after the girl's sister booked him on that fateful day. Mr. Uzor had also denied culpability in disappearance of the girl.
In the meantime the Centre for Basic Rights Protection And Accountability Campaign has called for encompassing investigation which should include the bolt driver, the relative where the bolt driver took the missing girl to and the Harmony estate.
The National Coordinator of Centre for Basic Rights Protection And Accountability Campaign, Prince Wiro in a statement on Saturday October 27,2023 said the Harmony estate should make available the CCTV footage and the access register, containing log in and log out of visitors to the Police on that fateful day to ascertain if the bolt driver and the missing girl, Elizabeth left the estate together or differently.
The rights group stated that it will monitor the development in the case while adding that any one found culpable in course of investigation should be deal with in accordance with the law.