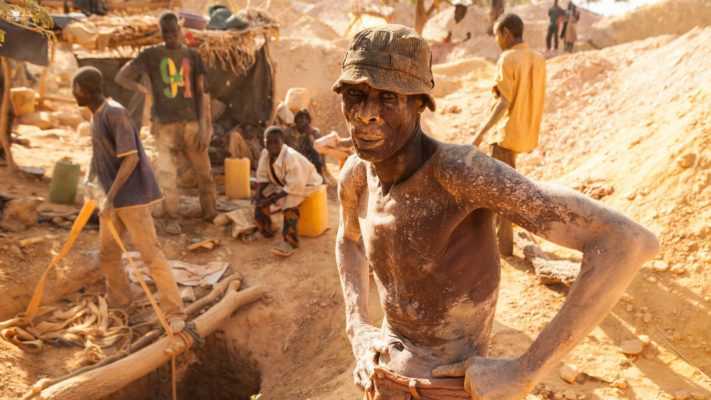 More Youths In Plateau State Abandon Formal Education & Farming, For Artisanal Mining
Following the rising spate of mining activities in some parts of Plateau, young people have abandoned their academic pursuits and have ventured into artisanal mining.
The booming artisanal mining in Barkin Ladi, Riyom, Bassa and Jos South local government areas (LGAs), have also made the largely under aged children to leave agricultural activities, which they were combining with their academics.
Some community leaders from the localities, in separate interviews, described the situation as worrisome and called for urgent action to curb the looming dangerous trend.
They raised this alarm on the sidelines of a training, recently organised by the Centre for Advocacy of Justice and Rights (CAJR) in Jos.Gyang Gerre, the community leader of Jol, in Riyom, accused some parents of influencing their children's decision to drop out of school and go into mining.
Mr Gerre, who decried the rising number of school drop outs in Riyom, said that the ugly situation was posing serious danger to the growth and development of society.
"Children in both primary and secondary schools no longer go to school; the number of school drop outs in Riyom is alarming.
"This is not a good omen for us, it has adverse effects on the future of the children and the society in general.
"Most children in Riyom don't go to school or farm again; the majority of them have delved into mining.
"The unfortunate aspect is that most of these kids are being encouraged by their parents because they are making quick and easy money,' 'he said. Mr Gerre also decried the looming hunger in most of these communities, and by extension, the state and country at large, because the mining activities were slowly crippling agricultural production.
"We commenced farming activities in April, but not much progress has been made because for the past three years, our people have not been consistent with farming as a result of artisanal mining.
"As we speak, serious hunger looms in our communities; parents now prefer to buy food instead of producing the food to feed their families and also sell.
"Our people have abandoned both the wet season and irrigation farming that they are known for, and have all gone into mining," he stated.
On his part, Jonathan Dangyang, from Gyel Community, Jos South, decried the growing trend of sexual immorality and drug abuse among young people at mining sites.
Mr Dangwang particularly decried the rate of unwanted pregnancies among teenage girls, adding that miners were the ones taking advantage of these young girls and impregnating them without taking responsibility.
"Socially, mining activities have massive devastating effects on our communities.
"Young girls of school age get impregnated at mining sites by people who are not ready to take responsibility.
"There is also an unchecked trend of drug abuse among young people; they consume all kinds of illicit substances.
"Worst still is the increasing rate of adultery among married men and women at the mining sites," he said.
Meanwhile, Sarah Johnson, the Programme Manager of CAJR, said that the training was part of its project tagged; "Effects of Tin Mining on Ancestral Lands, Land Productivity and the Future of the Next Generation in Plateau."
Ms Johnson said that the project was being supported by Global Green grants Fund, an international organisation.
"This project aims at checking how mining activities are affecting the preservation of ancestral lands, agricultural activities and the social lives of the people.
"Because the ongoing mining activities in Plateau are huge, this project also seeks to find out the economic importance of abandoned mining ponds scattered all over the state.
"The project also wants to find out the social and health implications, due to increasing mining activities in communities across Plateau.
"So, this meeting is to sensitize these stakeholders and find out possible ways we can collectively address the challenges that come with mining activities on our lands," Ms Johnson said.
She, however, explained that the project was not aimed at discouraging artisanal mining in the state, but to ensure that it was done with minimal negative impacts on the land.
"All we are after is to ensure that mining activities improve the health and social lives of the people.
"We want to ensure that mining doesn't affect farming, tourism, among other activities due to land degradation, as a result of exploration of commodities," she added.
(NAN)