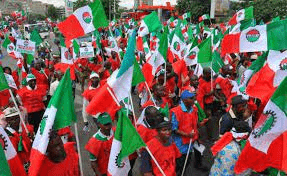 No Warning Before Next Strike, Labour Tells FG
The Trade Union Congress on Saturday said the suspension of its October 1 nationwide strike was a temporary move. It noted that it remained conditional upon the fulfillment of the promise by the President Bola Tinubu-led administration to fulfill the conditions enlisted in the Memorandum of Understanding signed by the Federal Government and the Organised Labour.
Labour also dismissed the claim by governors that they would not implement the demands in the MoU between the Federal Government and the organised labour on the grounds that governors had rolled out palliatives for state civil servants and residents before the MoU was signed. The National Deputy President of the Trade Union Congress, Tommy Etim, made these known in an interview with our correspondent in Abuja on Saturday.
According to Punch, the organised Labour and the Federal Government had signed a 15-point agreement in the MoU, which was made public on October 1, 2023.
Speaking on reports that governors might not implement the terms of the agreement, Etim stated, "That is not possible. Anyways, the truth is that we have reached out to our people in the states to meet with them. Letters have also been sent to that effect."
On the progress reached so far with the government, the labour leader said, "The 30-day ultimatum we gave to them is still in place. We have given them time and we are sure they are working. What we did was just a suspension. When you suspend a strike, you can kick start it without further notice. We have done our part and we are waiting for them to play their part.