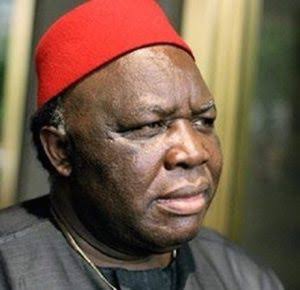 Prominent Igbo Leaders Mourns As President General Of Ohanaeze Ndigbo Worldwide Prof George Obiozor Joins His Ancestors
It is now confirmed that The President General of Ohanaeze Ndigbo Worldwide Prof George Obiozor is dead. It has been confirmed by the family, the people and the government of Imo state, and his state of origin.
The leadership of Ohanaeze Ndigbo UK can now confirm the same with sadness. The PRO made the publication but we waited to get confirmation from the family before we write. It is a great loss to Ohanaeze Ndigbo as an organisation, the people of Imo state, his state of origin and my state of origin, Ndigbo as a people and Nigeria at large. As a diplomat, world icon and great son of Ndigbo. Nigerians, Ndigbo and the entire world will surely miss him. But we as a people will take solace in the Lord to bear the loss.
He live a ripped life to a quality age, he lived a fulfilled and quality life, lived a life of great achievements. But the Lord took him when the world needed his wealth of wisdom most. We can't question God. But he has left the battle for the living. Let us take this moment to re-examine ourselves and make amendments where necessary so that we will be able to make a positive impact on our fellow humans, Alaigbo, Nigeria (if you believe) and the world where we live.
Right now, our thoughts are with the family, his Awommamma community, the entire Oru, Old Orlu, Ndigbo as a people, the government and the people of the Imo state. On behalf of the leadership of Ohanaeze Ndigbo UK and the General assembly of Ohanaeze Ndigbo UK,
I say may his soul rest in peace and rest with his creator. (Adieu our PG, PROF GEORGE OBIOZOR) As a mark of respect to our great leader, I announce to us all that this forum and all our affiliated forums of Ohanaeze Ndigbo UK will be shot down from 19: 00 hrs today 29th December 2022 for 24 hours. At this time, there won't be any publication, no announcement, no posting or commiserations. All these will resume back after 24 hours from 7 pm today.
Signed by Chief Engr. Stanley Okechukwu. President . Chief Uche Osuigwe (Agu-udo) Secretary-General Ohanaeze Ndigbo UK on behalf of the executive Council, Imeobi in Council and the entire members of
Also the Governor of Anambra State, Professor Chukwuma Charles Soludo, CFR has expressed sadness over the passage of Professor George Obiozor President-General of Ohanézè Ndígbo Worldwide.
Reflecting on the life and times of the late leader of Ndigbo Apex group, Governor Soludo said
Prof George Obiozor was a great diplomat and a solid intellectual in the diplomatic circles
He described his passage as a big loss to the people of Imo State, Ndigbo, the Nigerian nation and the world at large.