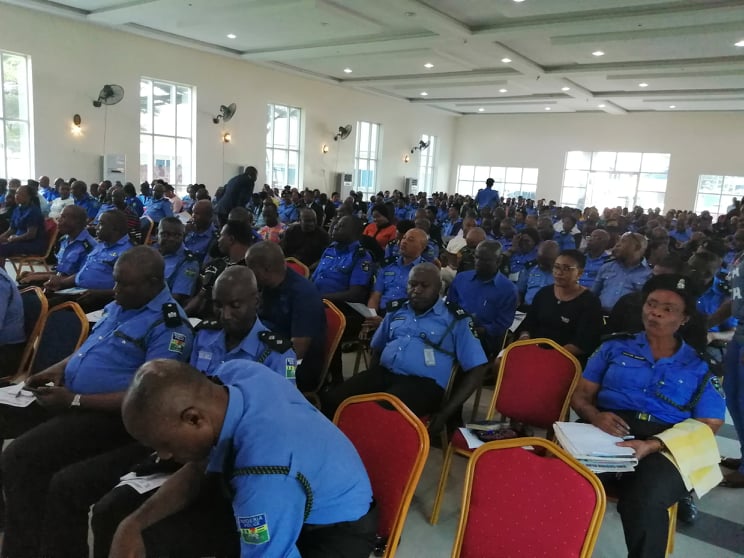 Re-Contempt Of Court: Rivers Police Trains IPOs, Tactical Teams On Implementations Of ACJLA In Conduct Of Cases
The Rivers State Police command have embarked on Training and re-training of its Officers of Tactical teams, Investigating Police officers IPOs to enhance its operations in services delivery to the public.
The state commissioner of Police in the state  CP Okon Effiong while addressing Officers and men of the command at the workshop   urged Officers in the State to get acquainted with the importance, features and essentials of the Administration of criminal Justice law ACJL of 2011  in prosecuting matters with due diligence and laws of the federal republic
He said "Our cases in court are thrown out because severally  IPOs don't appear in court to give evidence in most cases presented to the court by police or thrown out of court for want of time or prosecution or maybe our lawyers are not doing their best professionally and should not be allowed to remain on that level of ignorance continually.
He enumerated policies and measures put in place by the Police Hierarchy to address the situation "the management in trying to move forward and adopt best practices packaged this workshop to sharpen your competencies and skills and warned that the efforts should not be regarded as a Jamboree,  He said "we have gone out  to invite eminent personalities to handle the various Topics on essentials ACJL to make your work effective
.
He also noted that the command took measures in ensuring that key officers/ men  from critical teams from various divisions in the state were invited and duly represented
Our expectations is that at the end of the Workshop, we will be able to go back to decimate the information and knowledge to those our colleagues who are not here, urging the Officers to replicate this workshops at divisional levels and also be the resource persons for the training in their division by being attentive to all the deliberations as no Knowledge is a waste "Even if you think you have done the training before, I can assure you that there must be something new you will learn today by being attentive while the workshops lasts