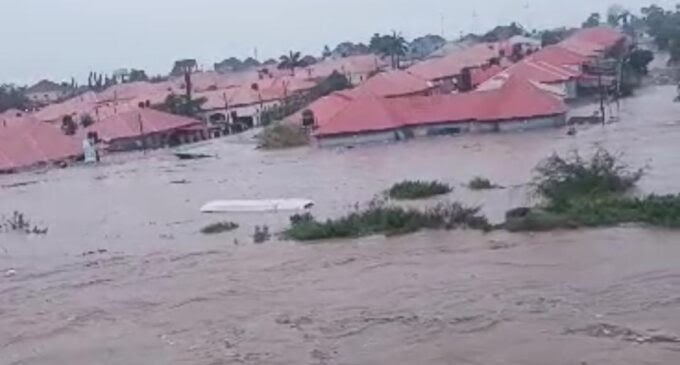 Relocate Now!! NEMA Reveals Trademore Estate Along Airport Road Is Built On Water Channel
Many Residents of Trademore Estate along Airport Road are said to be trapped after a heavy down pour, Not fewer than 116 houses are reportedly N after heavy rainfalls on Friday caused Flooding .Videos circulating online show several houses and vehicles submerged under water. As of the time of this report, efforts were ongoing to
rescue those trapped in their houses.
In a situation report on the search and rescue efforts, the National Emergency Management Agency (NEMA) said the driver of a Peugeot 406 with the registration number YLA 681 FS drowned in the flood and still missing. "Four persons were rescued and in stable condition,"
While there were concerns that at least one life was lost in the incident, the Director General of the Federal Capital Territory FCT Emergency Management Agency FEMA, Dr Abbas G. Idriss said no life was lost.
Noting that the floods at Trademore Estate were caused by infractions on the water channel, Idriss appealed to residents whose houses are built on the water channel to relocate.
Head, Public Affairs at FEMA, Nkechi Isa quoted her boss as saying that the Trademore estate is on a water channel and therefore prone to floods.
According to Idriss, the floods have however receded, appreciating all stakeholders and residents for their efforts and cooperation at Trademore Estate to ensure that no life was lost.
He dismissed as untrue social media reports alleging that a resident of the Estate was missing during the floods.
Noting that the Nigeria Hydrological Services Agency NIHSA had predicted heavy floods in the FCT, this rainy season, the FEMA boss appealed to residents of the Estate whose houses sit on the water channel to relocate. He urged residents to always use the 112 Emergency toll free number in the event of an emergency.